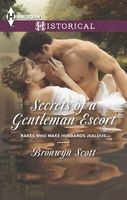 Series:
Rakes Who Make Husbands Jealous
(Book 1)
He's the talk of the ton--for all the wrong reasons
Society's most outrageous--and popular --escort Nicholas D'Arcy is renowned for his utmost discretion. So when he suddenly finds himself named and shamed by a jealous husband, he reluctantly accepts a summons to the countryside...a fate worse than death.
Annorah Price-Ellis isn't what Nick is used to--innocent, feisty and decidedly uncomfortable with the spontaneous heat between them Suddenly, London's most audacious lover is out of his depth, and in danger of revealing the real man behind the polished facade....
Good book. Nick is a very popular escort because he knows what women want and is very good at delivering it. When he is nearly caught by a jealous husband he has to get out of town for awhile. He is sent to Annorah, who has asked for someone who can give her five nights of pleasure. She is looking to live a little before either marrying a man she doesn't love or losing her home and the life she is used to.
I liked Nick and Annorah more than I thought I would at first. Nick has been working as an escort for several years because it pays very well. He uses the money to support his mother, brother and two sisters. Their lives had been changed when Nick's father was killed during a storm and his brother was paralyzed at the same time. Nick feels that he is responsible so taking care of them is what he must do. Being an escort gives him the money he needs, but also a reason to stay away from them since he doesn't want them knowing what he does. He has a talent for pleasing women and he has been doing so with great enjoyment. He's not happy when his latest job gets him banished to the country until the furor dies down. Meeting Annorah starts out as just another job to him, but there's something about her that starts to change him. Usually he is able to do what he must but stay detached, not allowing his emotions to get involved. With her he is developing a closeness, even friendship, that threatens that detachment. I really liked seeing the London rake start to disappear and the real Nick come to the surface. I loved the fishing scene where he and Annorah had quite the competition going that had nothing to do with why he was really there. He also showed some of his true self when he and Annorah were reading to the village children. I also enjoyed seeing all the really romantic things he did for her that were well beyond what he would have done for anyone else. Nick's growing feelings for her led him to agree to pose as her fiance during a visit to her aunt's home in order to protect her from an especially nasty fortune hunter that her aunt is encouraging. The entire house party scene shows even more what an honorable man Nick is at his core. I loved the ending and seeing Nick become a part of his family again.
Annorah is quite a wealthy woman, but that may not last. Her father's will stated that she must be married by her thirty-third birthday or everything would go to charity and she would be left with a small cottage and enough money to live on. As a result, she has been pestered with fortune hunters. She was deceived a couple times by men who made her think they really cared, and as a result she has withdrawn from almost all contact with society. Now her deadline is almost upon her and she wants to live a little before she loses it all. So she hires Nick to show her the passion she doesn't expect to find for real. She is very nervous about it, especially when she sees how handsome Nick is. She soon realizes that she doesn't want the same empty words that she has experienced all her life, she wants a real connection with Nick. I loved seeing the way that Nick brought her out of her shell and she started having fun again. I also enjoyed the way that she and Nick found a passion together that neither of them had ever expected. Annorah also discovered that what started out as a paid transaction quickly became one of true caring. I loved the way that she saw the real Nick and how she tried to help him see that he had no need to feel guilty about his family. One of the things I liked about Annorah was the way that she went after what she wanted. First when she hired Nick to begin with but also when she asked him to become her fiance to delay the terms of the will and give her more time to find a way out of it. I especially liked seeing her try to track Nick down in London and then find her way to his family. She wasn't going to give him up without a fight.
I thought all the characters were very well done and easy to relate to. Both Nick and Annorah had issues to overcome, but it was very easy to want them to succeed. The bad guys were also suitably unlikable without being over the top. The fortune hunter was nasty and I really would have liked to see Nick pop him one. I detested Annorah's aunt and felt that she deserved whatever she got.
The whole premise of the series is very interesting and I am looking forward to reading the other stories.