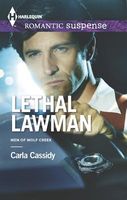 Series:
Men of Wolf Creek
(Book 2)
Marlene Marcoli made the mistake of falling in love and almost lost her life. Hoping to put her abusive marriage behind her, Marlene moves to Wolf Creek, Pennsylvania. But danger follows her once again when her apartment is vandalized. To make matters worse, the sexy detective working the case is distracting her beyond reason.
Detective Frank Delaney hasn't been interested in dating since his wife died--until Marlene comes to town. Irresistibly drawn to the blonde, he's got to find a way to make her trust him. And when Marlene's life is threatened, Frank must race to protect her--if they both hope to have a second chance at love.
Marlene has been back in Wolf Creek for a year after the end of her marriage. She is working with one of her sisters in the store they run together. When she isn't working she stays to herself. When her apartment is vandalized the first one on the scene is Frank Delaney, one of the detectives who is also working the case of her missing aunt. She finds him very sexy, but has no desire to get involved with another man. Her confidence in her ability to have a good relationship is nonexistent, so when he indicates an interest in getting to know her better, she shuts him down pretty quickly. But as she starts receiving threatening letters, then someone shoots at her, she accepts Frank's help in keeping her safe. Marlene's standoffishness at first makes her seem pretty unemotional until she starts to open up to Frank about her past. She confides things to him that she hadn't even shared with her sisters. She also finds herself looking forward to seeing him which is not something she ever expected to happen. I really liked the strength she showed as everything was happening to her. She never really fell apart completely, though she did have a couple mini-meltdowns that she quickly recovered from. I also liked the way that after she got shot at she started thinking about the way she had been living her life and decided it was time to make some changes. That included her relationship with Frank, where she had to decide how much or how little she wanted from him. I loved seeing her start looking at fulfilling the dream she'd had before her marriage now that she's decided to leave the past in the past.
Frank has been living a life filled with guilt and self-recrimination. Three years earlier his wife had committed suicide and he blames himself for not seeing how big her problems were. He will occasionally date, but hasn't gotten involved with another woman since then. Being the detective in charge of finding out who is threatening Marlene puts him in her company a lot. It isn't long before he discovers that she's not the ice princess people call her, she is just protecting herself. He is intrigued by her and wants to spend some time getting to know her, but she won't go on a date with him. I enjoyed his way of getting around that by taking food to her work to share with her rather than going out. It is during one of those non-dates that they are shot at and he takes her home with him to protect her. His feelings for her are growing stronger, but he knows that she has issues from her marriage and he is leery of getting involved with another woman who might be more emotional than he can handle. I was a bit irritated with him that he couldn't see the huge difference between Marlene and his late wife. I could see that he had really fallen for her but he was having a lot of trouble letting go of the past. When he finally did, he did it very well.
The ongoing mystery of Aunt Liz's disappearance hasn't really made any progress. There were a couple of check-ins to see what was happening with her, but the detectives are at a complete loss. They haven't been able to find any clues to go on. The epilogue was a lead in for the next book and it isn't looking good for the Marcoli family.
The mystery that was central to this book, of who was targeting Marlene was very well done. There were various clues, some of which worked and some that were dead ends. I was definitely invested in finding out "whodunnit" and was completely surprised by who it was.