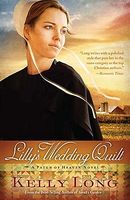 Series:
Patch of Heaven
(Book 2)
Handsome, headstrong Jacob offers Lilly his hand in marriage, but his heart belongs to someone else.

While Lilly Lapp has loved Jacob for years, she wouldn't compete with Sarah King, the woman Jacob was determined to marry. But when Sarah marries another, Jacob spontaneously agrees to wed Lilly.

Lilly divides her time between teaching the local Amish children and caring for her widowed mother who suffers from depression. Lilly's faith comforts her, but her heart still longs to be the sole object of Jacob's affection.

As the days slip by, Lilly decides that hoping is too risky and vows to protect her heart. But God is subtly as work, and as winter turns to spring, their hearts awaken.

The furthest thing from Lilly's mind is her Amish wedding quilt, a traditional gift for new brides. And the person she'd least suspect is the one making it. Like stray pieces of fabric quilted into a new design, Jacob and Lilly's marriage begins to bind them together in ways neither expected.
Very good book. Lilly has loved Jacob ever since they were in school, but Jacob has only had eyes for Sarah. On the day that Sarah is marrying another man, Lilly finds Jacob injured in a barn. He has stolen a horse that has been abused and was shot while doing it. When they show up together at the wedding eyebrows are raised, especially when Lilly claims Jacob was with her to protect him from arrest. To protect Lilly's reputation, Jacob announces their engagement and they marry soon after. Now they have to learn to trust each other with their hearts.
I loved Lilly. She is the only child of her widowed mother and does her best to care for her, as well as do her job as the schoolteacher. She wants a family of her own, but the only man she wants cares for someone else. I loved her quick thinking when Jacob was accused of being the thief, even as it got her in trouble. She was willing to go through with the marriage, hoping that Jacob would soon come to love her. She gets discouraged when it appears that his feelings for Sarah are just as strong, but makes a decision to try to win his love. I loved seeing her efforts and the effect they had on Jacob.
Jacob has been fixated on Sarah for years and is devastated when she marries another. He is determined to make a go of his marriage to Lilly but doesn't seem to be able to let go of Sarah's memory. It doesn't take too long before he starts noticing Lilly for herself and develops feelings for her. But he feels unworthy of her because he has never really learned to read, something he has a hard time confessing to her. He also has trouble speaking of his feelings and draws away after being what he thinks is too forward. With his brother's help he finally sees what his true feelings are and comes up with the perfect way to show her of his love.
I really enjoyed their post marriage courtship, as they got to know each other better. Jacob confesses his difficulty in reading to her, and she tells him of her fear of horses. Together they learn from each other and conquer their fears. I loved Lilly's creativity in the methods she used to teach Jacob and how those methods contributed to their improving relationship. Jacob is an excellent horse trainer, and as such discovers that the methods of training a horse can work very well in teaching Lilly not to fear horses.
I also liked seeing the daily lives of Lilly and Jacob. Lilly's work as a schoolteacher was very fulfilling for her. She loved seeing them learn and liked finding special ways to teach them. It was sweet the way that she worried about having the ability to teach Abel and how she shared those worries with Jacob. There was also a lot of time spent on Lilly's relationship with her mother who suffers from depression. I loved seeing how the whole community got involved in helping Lilly care for her. Their improving relationship showed in the advice that Lilly's mom gave her at the end. I also loved the relationship between Jacob and his brother Seth. They were realistically portrayed with their love for each other, but also their rivalries and arguments. Seth's advice to Jacob was usually accurate but not always appreciated. I loved the way his help for Jacob snowballed at the end and the amusement it provided to others. I'm really looking forward to reading Seth's story.