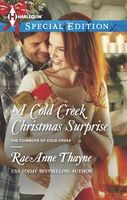 Series:
Cowboys of Cold Creek
(Book 12)
Hardened rancher Ridge Bowman has long told himself he has no need for love -- just work and his little girl are enough to get him through. But when his "cleaning lady," Sarah Whitmore, gets injured on his staircase, well, of course he has to invite her to spend the holidays with him. It's only the responsible thing to do.
Only, Sarah isn't really there to work on his house. She came bearing precious artwork belonging to Ridge's late mother, and possibly a secret that could devastate them both. But as Christmas draws closer, so does Ridge -- and Sarah convinces herself that she will tell him what she knows as soon as the holiday is over. She might be the key to his past -- if only he could be a part of her future….
Beautiful story dealing with family, secrets and forgiveness. I really liked both Sarah and Ridge. Ridge is the oldest of the Bowman family and the one who runs the family ranch. He is the single father of eleven year old Destry. His marriage was short-lived when his wife couldn't handle the ranch life and left them both, and now he doesn't plan to look for love any time soon. The day after his sister's wedding he mistakes Sarah for the cleaning lady who is supposed to clean up after the wedding. When she falls and breaks her arm at his house he's compelled by responsibility and an unexpected attraction to ask her to stay at the house through the holidays. Sarah doesn't know why she didn't tell Ridge the whole story behind her visit right away. Now she's spending time on the ranch and getting to know both Ridge and Destry. The more she gets to know them the harder she falls for both, and the guiltier she feels about the secret she's keeping.
I really enjoyed the whole story. Sarah came across a whole bunch of artwork belonging to Ridge's family after her father died. Once she learned the story behind the artwork's loss she feared the involvement of her father and brother in the Bowman's tragedy. She's determined to return it all to the family. She doesn't expect the immediate connection she feels to Ridge and it causes her to hang on to her secret longer than she should have. His family is so different than hers and she can't help enjoying being part of it during her stay. When she realizes how hard she's fallen for Ridge she knows she has to tell him the truth and chance losing him.
Ridge's immediate connection to Sarah surprises him. I really liked the way that he brought her into the family. His delight in the way that she takes to Destry and seems to like the ranch just makes his feelings for her grow that much stronger. I really liked seeing him let go of the unhappiness that had been a part of his life for so long. He really wants to make Sarah a permanent part of his life, but he senses that something is bothering her. When he finds out what it is, he goes a bit crazy with his accusations and really messes things up. I loved the scene in the barn with his two brothers as he tells them the story and they tell him what an idiot he is. I loved how the ending turned out, with their relationship following a logical progression after they got their issues sorted out.
It's wonderful that the mystery behind the Bowman's parents' deaths is finally solved and they are all able to move on. The characters throughout this book and the others feel real, without being too perfect or too bad to relate to. The emotions were very intense, especially at the end.