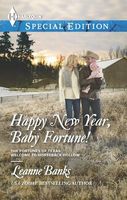 Series: Fortunes of Texas: Welcome to Horseback Hollow (Book 1)
As she rings in the new year in Horseback Hollow, Texas, single mom Stacey Fortune Jones tries to count her blessings. She has an adorable baby girl, Piper; supportive parents; good friends. Best of them all is Colton Foster, her longtime neighbor from the ranch next door. He always seems to be around when she needs him. Trouble is, she may be starting to need him a bit too much....

She's off-limits, Colton keeps telling himself. The tall, muscular rancher turns to mush every time he sees Stacey. But falling for his little sister's best friend seems wrong on so many levels. She's on the rebound. She's got a baby. She's...complicated. What's a big-hearted cowboy to do?
A new year and a new family of Fortunes to hang out with. It starts with the wedding of Sawyer Fortune and Laurel Redmond from Change of Fortune, the last book in the previous series. Both Stacy and Colton are at the wedding. Stacy is his little sister's best friend, he feels that he has no business noticing how she's changed. At the same time, Stacy had never before thought of Colton as more than a brother-type figure, but suddenly she's noticing how sexy he is. As they start to get to know each other as adults they have to deal with their own growing feelings and fears as well as attention and interference from family and friends.
I really liked both Stacy and Colton. Stacy is raising Piper on her own as her fiance fled when he heard she was pregnant. They are living with her parents as Stacy tries to get back on her feet. Seeing Colton at the wedding opened her eyes to things she had never noticed about him before, and his New Year's kiss rocks her socks. She's not quite sure what to do with these new feelings as she is determined to provide a good life for her daughter. She's not really looking for someone since she has a hard time believing another man would happily raise someone else's child. But suddenly Colton is paying a lot of attention to her and her daughter and it's having an effect on her. I really loved seeing the two of them get to know each other, both with and without Piper's presence. Stacy comes to see Colton for the nice guy that he is. I loved the way she had Colton getting to know Piper. There are a couple really funny scenes as he gets to deal with her on his own. Since having Piper, Stacy has become pretty quiet and serious, wanting to make sure she does her best for Piper. Being around Colton brings some fun back into her life and she's starting to get used to him being there for her. But she worries about whether he would want to stay involved with her. I loved the ending and seeing her happiness as Colton expressed his lovefor them both.
Colton has always looked at Stacy as just his little sister's best friend. Seeing her at the wedding showed him a different side of her. There's just something about her that he can't get off his mind. But he has a couple problems. He blames himself for her fiance's desertion. He had pushed Joe into making a commitment because he felt Joe wasn't treating her right, and thinks that none of it would have happened if he had kept his mouth shut. His other problem is that he is terrified of Piper. He's never been around little kids and is afraid of doing something wrong. I loved seeing the first time he got left alone with her and how he had to cope with everything. It was so sweet seeing him try so hard to get her to stop fussing. The picture of them asleep as Stacy found them was heartwarming. I also loved seeing the way he took care of both of them when Stacy got sick. It was a real indication of just how great a dad he would be. Colton worries about getting involved with Stacy because he doesn't want to take a chance on hurting them if he can't handle things. I loved seeing how much he wanted to make life better for her, as he saw that she didn't seem as happy as she used to be. I loved seeing the things he came up with to give her some fun. It was great to see his protectiveness as he confronted those who said things about her. I also loved his face off with her ex-fiance and what came of it. His love for both Stacy and Piper was just what he needed.
I loved the part that little Piper has in the book. She is so well portrayed that I can picture her easily. She is a real cutie, but she is also a typical baby. We hear about the good things, but also about the colic and teething, about the diaper failures (poor Colton!), and about what a difference she has made in so many lives.
There are also the trials of living in a small town, as everyone seems to have an opinion about the developing relationship between Colton and Stacy. I loved Stacy's horror at some of the comments her mom makes, and Colton's frustration with his mom and dad's statements about not taking advantage of Stacy. But through it all the love and support that both get from their families is the most important thing.
As the first book in the new series there are some important things being set up. We get to know more about Jeannie Fortune Jones and her family. She turned down the money that her brother offered her as part of the Fortune family because she felt that was the right thing to do. We learn that one of her sons has a great deal of resentment toward the other Fortunes because he feels that his family missed out. Another son hasn't truly embraced being part of the Fortune family. There is also a hint that all isn't well in Horseback Hollow when it comes to the Fortunes. The new flight school has one of its planes crash and there is some question about whether it was an accident. I'm really looking forward to the rest of the series.