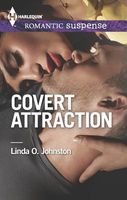 A dangerous exposé that could backfire at any second…

Corcoris Pharmaceuticals destroyed everything for Beth Jones. Her safety. Her livelihood. Even her identity. She has to expose the truth. And she's got an unlikely ally in her undercover ruse: a lab technician who just happens to be a special agent. But Beth certainly doesn't expect the electricity between her and Daniel McManus to consume her every waking moment….

Daniel approaches each case with laserlike focus. But the sparks that fly between him and Beth are as red-hot as the danger that accompanies their every move. Will their mission be successful despite their relentless attraction?
Good book. It didn't have quite as much action as some, but certainly kept my attention. Beth lost her job after she noticed some irregularities at work. When she reported them she began receiving threats that then escalated into threats against her family. She was given a new identity and relocated to protect her, but she feels she has to find the truth. She has taken a job back at Corcoris as part of the cleaning crew as she searches for the evidence needed to expose them. When she meets Daniel there is a definite attraction between them. Finding out that he has the same goal is just the icing on the cake. I liked her determination to find the truth even if she was told to stay out of it. Even though she isn't trained for it she has pretty good instincts and did well getting some vital information. I thought she kept her head pretty well at the end as things got really intense. She also tries very hard to keep from being distracted by her feelings for Daniel. Those feelings grow pretty fast and she knows that nothing can come of them since he'll be gone when the case is over.
Daniel enjoys his job with the Covert Investigations Unit. He feels like he's making a difference plus there's plenty of variety in what he does. The Corcoris job has been a challenge so far in the month he's been working in the lab. He's just starting to hear hints of what is going on when he finds out about Beth and what she's doing. He had noticed her before and felt an attraction that was unusual for him. As he gets to know her he finds that she is on his mind even while at work. He worries about her as she pursues her investigation attempts. He had lost another woman he cared about during another case and he fears that something could happen to Beth. I loved seeing the intensity between them and how each wished it could continue but was sure that it couldn't. I really enjoyed the final confrontation and seeing how it all turned out. The judge's actions at the end were great. I loved seeing the fun side of her.