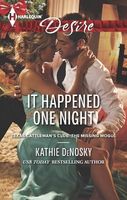 Series:
Texas Cattleman's Club: The Missing Mogul
(Book 6)
Josh Gordon has no intention of funding the Texas Cattleman's Club day-care center, even if sexy Kiley Roberts is the one asking. Neither has forgotten the explosive night they spent together three years ago. The temptation to mix business and pleasure is undeniable, but it's Kiley's devotion to her daughter that has Josh dreaming of a family of his own. But when Josh questions who the little girl's father really is, will the truth drive them apart or bring them even closer together?
This is the sixth book in the
Missing Mogul
series. Alex is back, but still has no memory of who he is or what happened to him. We don't see much of him in this story. I'm really looking forward to finding out what happened.
Josh starts out as being a bit of a butt head. He has no intention of giving Kiley the added funding and barely pays attention to her presentation. It isn't until he discovers she's the woman he mistakenly slept with three years ago that he comes up with another idea. He offers her an extra month's funding so that he can observe the center and she can convince him that the day care is actually worth it. Kiley isn't exactly thrilled with the idea of him popping in and out. The attraction between them is even stronger than it was and she doesn't want it to affect her job. Josh would really like a chance to get to know her for real this time. I loved his surprise at finding out she had a child and how quickly he adapted his plans so that Emmie was included. He was really out of his comfort zone when he was around her, but he had a really sweet way of acting with her. It didn't take too long for him to get really comfortable with her. Josh has always been the carefree bachelor type of guy, but being around Kiley and Emmie has started to change him. I thought he was coming around to being a really nice guy. He realized that his feelings for Kiley were different than for anyone else he'd been with, but he really fought the idea that he was in love. When he found out about being Emmie's father he didn't handle the news well and I really wanted to shake him. I liked what he did at the end as a way to make amends, it was definitely a "go big" moment.
Kiley had been divorced from her husband for a long time. He had signed away all his rights to Emmie and acted like they didn't even exist. Kiley is very independent and works hard at being able to support Emmie on her own. The director job is perfect for her because she can have Emmie there with her. When she first talks with Josh he isn't aware of their history because they had not actually seen each other that night. She isn't happy about telling him, but knows she has to. She really doesn't expect their attraction to be so strong. I found the idea that she hadn't realized the true paternity of Emmie a little strange until it was explained, but it added an extra twist to the story. As her suspicions grew she spent a lot of time watching the way they interacted and it changed the way she had thought of him before. Kiley spent a lot of time trying to figure out the best way to tell him and feared what his reaction would be. Her inner struggles with how and when to tell him showed her love for him, but also her insecurity about what he felt for her. Though their relationship began because of simple attraction, Kiley's love for Josh grew quickly. I think it was really enhanced because she saw how wonderful Josh was with Emmie and how sure she was that he would be good to her.