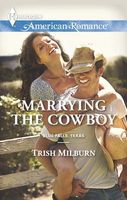 Series:
Blue Falls Texas
(Book 3)
Friends To Roommates...To Lovers?
Living with the Cupid of Blue Falls, Texas--her aunt Verona--Elissa Mason should be married by now. Or so her friends tease. But Elissa is wedded to the family nursery she's turned into a success. Following a devastating tornado, she has to rebuild and nothing's going to distract her. Not even her new feelings for neighbor-turned-roommate Pete Kayne.
Deputy sheriff Pete Kayne understands having a dream and doesn't want to get in Elissa's way. Especially after the tornado has taken his house, his truck, everything but his horse and his friends. All he's got left to share is his heart. He has his own ambition: a chance to join the ultimate in law enforcement--the Texas Rangers. Elissa was his friend. That would have to be enough....
Wonderful friends to lovers books. Pete and Elissa have been friends since she came to live with her aunt as a teenager. As the book opens a devastating tornado rips through Blue Falls. Elissa and Verona's house is okay, but her nursery is heavily damaged and Pete's house is completely destroyed. They invite him to stay at their house until he can get set up again. But something has changed between Pete and Elissa and neither is quite sure what to do about it.
Elissa spent most of her childhood traveling with her parents until she wanted a normal high school life. She moved in with her aunt and made friends, including Pete. Seeing him emerged unhurt from the storm shelter sent feelings through her that she'd never had before. She doesn't understand why she's suddenly seeing him in a whole new way. The attraction to him scares her because she doesn't want to do something that might wreck their friendship. She fights her feelings really hard but now that they've surfaced she can't deny them. When they actually start to pursue their feelings things get intense really fast. Elissa has fallen for him but she doesn't want to interfere in his dream to become a Ranger so she won't tell him. It takes both her aunt and her mother to show her the errors in her thinking.
Pete is one of those guys you just can't help but love. He's had a dream since he was a kid, to become a Ranger like his dad was. He lost his father when he was young, then his mother a short time ago. When the tornado destroyed his home he was left reeling. Staying with Elissa and her aunt has brought back long hidden feelings. He'd had a crush on Elissa when they were in school, but he'd buried it deep and they became friends. Losing almost everything as he has wakes him up to one thing he wishes he had - a family. His reawakened feelings for her have him seeing her in a permanent place in his life. But he's afraid to make any advances because he doesn't know if she feels the same way and he too doesn't want to risk their friendship. I loved seeing him take charge, but also exhibit a playfulness that Elissa responded to. He didn't understand when she pulled away after his acceptance to the training academy and felt her loss the most of all. I loved the way he didn't give up all hope and I loved the ending.