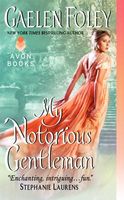 Series:
Inferno Club
(Book 6)
Notorious Lord Trevor Montgomery has fearlessly met danger head-on. Now he must confront his greatest challenge yet: marriage!
Shy, warm-hearted Miss Grace Kenwood knows she is "just" the parson's daughter, with no chance of tempting her new neighbor, Lord Trevor Montgomery. After all, every eligible beauty for miles around is swooning over the brooding former spy. He's the picture of sin, and though he once had the audacity to kiss her senseless, he can have no interest in someone like Grace. Yet, somehow, the seductive rogue unleashes her own inner devil ...
Every lady loves a hero -- but Trevor has no interest in any of them -- except for the refreshingly candid Grace Kenwood. If he had a heart left, Grace might steal it. She insists he's better than he thinks. He's sure she's absolutely wrong. Until danger threatens, and Trevor rediscovers how easy it is to be a hero ... for the right lady.
I really enjoyed this book. Now that the war is over and the Order has been exposed, Trevor doesn't know what to do with the rest of his life. He was left by his fiancee when she believed he was dead, leaving him somewhat bitter and cynical about women. A chance encounter with Grace shows him a different kind of woman. He decides to purchase property near her home and enjoy some well earned peace and quiet.
I really felt for Trevor. He's trying to adjust to civilian life and not having an easy time of it. Thanks to publicity about the activities of the Order, he finds himself pursued by women of all types and he's just not interested. While attempting to hide out, he stumbles across Grace who is doing the same thing. Thinking she is just another society "carnivore" he kisses her and is stunned when she sticks him with a hairpin and reads him the riot act. This sets her apart in his eyes and motivates him to buy property near her home in order to get to know her better.
Grace is the local preacher's daughter, and at twenty-five considers herself a spinster. She is a genuinely good and kind person and spends her time helping the locals. Her brief encounter with Trevor opened her eyes to the woman inside her who really does want a man of her own. She has no confidence that he would actually be interested in her, especially with her beautiful friend Callie around. She does try to be a friend to him, sensing that he is just as lonely as she is.
I really enjoyed the development of the romance between Trevor and Grace. He's something of a lost soul, feeling the weight of the things he had to do in service to his country. He doesn't think someone as good as Grace would be interested in a man who has done the things he has done. I liked the way that she made him want to be a better man. Her example showed him that hiding out on his property wasn't what he should do, but that he should get involved with helping the people of his new home. I loved the way he got an idea of what to do and ran with it. I enjoyed seeing the way that his example then motivated some of the more selfish people to get involved also. I loved that he was so obviously smitten by her from the beginning and had his eye only on her.
Grace could have come out looking just too good to be true, but there was enough bad girl in her to keep her real. In spite of knowing she should resist, she really got into that first kiss before coming to her senses. She also has a couple of times when she really loses her temper with him and says some things that aren't necessarily nice even though they are true. She has some moments of jealousy that don't show her in the best light, but certainly make her more real. When she finally accepts that he really does want her it brings out the passionate woman inside her.
There are always some humorous moments in Gaelen Foley's books and this was no exception. The welcome dinner that put Trevor in the hot seat was pretty fun to read as he tried to keep himself out of Callie's crosshairs without offending her mother. The scene where Grace uses the twins to rescue him once again from Callie was great.
It wouldn't be an Inferno Club book without some danger, though it wasn't too intense in this one. Trevor ends up dealing with some London baddies who come to Thistleton to take revenge on a young man who tried to protect a prostitute. Trevor got to use his Order skills and Grace got a better idea of what his life had been like.
In some foreshadowing of the next book Trevor makes peace with Nick, the Order member who had betrayed him in an earlier book. There is also mention of their murdered mentor's previously unknown family, with the idea that the two will be part of the next book. I am looking forward to reading it.