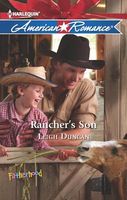 Series:
Fatherhood
A Cowboy Daddy In The Making?
Sarah Magarity just broke the first rule of social work: don't get personally involved. But how can she ignore the orphaned tyke who shows up in her office on Christmas Eve? The chance to make a difference is awfully tempting. So's the rancher with the sexy smile who might be the boy's father. Still, Sarah has to be nuts to let Ty Parker sweet-talk her into a cattle drive across rugged Florida wilderness.
Ty can't believe he might have a son to carry on his legacy. Still, until the DNA results come back, he isn't making any plans. But a strange thing happens on the open road. Amid rattlesnake scares and cozy campfires, he's growing closer to the boy...and to Sarah, the fiery redhead Ty can't keep out of his arms. They could be a happy family, unless the truth tears them apart....
Good book. When orphaned Jimmy is dropped at her office on Christmas Eve, Sarah can't just leave the five year old at a group home for older kids. She breaks the rules and takes him home with her. Over the next few days she attempts to reach the man who may be Jimmy's father. When she does, Ty is unwilling to believe that his ex's son is also his until the DNA test comes back. He does invite Sarah and Jimmy to come to the ranch and participate in their cattle drive. Ty plans to keep his emotional distance until he knows for sure if Jimmy is his. Sarah is certain that he is and determined that Ty connect with Jimmy as soon as possible.
While alone at the social services office on Christmas Eve Sarah is thinking about how her job hasn't turned out the way she expected it to. She's frustrated that she hasn't been able to do the good things that she wanted to and is feeling burnt out. Having Jimmy dumped on her gives her a chance to do something that will, hopefully, have a positive effect on his life. Even though her prior experience with Ty doesn't give her confidence in his abilities as a parent she is determined to see him do the right thing. I loved seeing the sparks between them as she begins to see that her first impressions of him were wrong. The longer she stays at the ranch with Ty and Jimmy the harder she falls for both of them, but she's afraid of what might happen if DNA shows that Ty isn't Jimmy's father.
Ty had tried hard to make his marriage work, but his ex wasn't happy living on the ranch. When she took off shortly after his father's death and the same day he found out about his best friend's death it was a blow to his happiness. He has spent the time since then trying to bring the ranch back to a profitable status. When he finds out about Jimmy he is quite certain that the boy isn't his, no matter what it says on his birth certificate. He refuses to get his hopes up until the DNA results are in, but he also can't stand the idea of Jimmy going to the group home. I loved the way he invited them to the ranch even though he had no idea how difficult it could be. It was pretty sweet to see that no matter what he said he couldn't help but give Jimmy all the attention he needed. I also loved seeing him getting closer to Sarah and thinking about a future with both of them.
I liked the depth of the characters. Ty's reservations were realistic and his reluctance to commit his emotions understandable. Sarah's idealism showed her big heart and I could easily see how much she wanted things to work out for Jimmy. I loved seeing the changes both of them went through as the book went on. The twist at the end was not unexpected, as I suspected it early on, but it was well done.