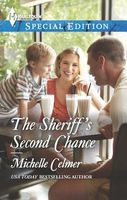 Series:
Paradise Colorado
(Book 2)
It's bad enough when Caitlyn Cavanaugh crawls back to Paradise with her tail between her legs after her life in the big city goes bust. But to run right into her ex, Deputy Sheriff Nathan Jeffries--and still be attracted to the man--is too much. True, she'd left him to pursue her dream after high school, but he'd wasted no time--well, maybe a month--before marrying her best friend and having a child.
Now that Caitie's back, it's Nate's job to rescue this damsel in distress from a series of minor mishaps. Sure, the single dad's strategy is keep up a cold, professional facade with the irritating beauty...but tell that to his heart
Good book. Caitie has come back home because of the loss of her job. The financial firm she worked for has gotten in trouble with the law, and finding a new job has become difficult. So she's helping out at her parents' diner. It's a small town so she knows she'll run into her ex, but didn't expect it so soon. She can't believe she's still attracted to him after all this time. Caitie still feels guilty about the way she left town without a word, then sending him an inadequate apology letter a month later. She had thought about contacting him, but then heard that he'd married her best friend and they had a child. Feeling her own sense of betrayal, she hasn't seen him since. She's only planning to stay in town until she finds a new job, but that seems to be taking awhile. Seeing Nate again has brought the old feelings back to the surface, not just her feelings for him but the feelings of betrayal by him and her best friend Mel. She finally sat down with her friend and they talked. I liked that they made up, but I thought both Mel and Nate could have grovelled a little more than they did. Having made up, Caitie finds Mel doing her best to shove her and Nate together, trying to get them back together. Caitie has to decide if she cares enough to stay in Colorado or if she's going to go back to New York. I liked seeing some of the changes that Caitie went through. The longer she was home, the more she realized that she had missed it. She also realized that she hadn't really had much of a life back in New York because she was working all the time. She began to see that having some balance in her life made her a lot happier and that Nate was an important part of it. I loved seeing the solution to her job issues and how it was her friends that pointed it out to her.
Nate was still living in Paradise, now working as a Deputy Sheriff. He had been deeply in love with Caitie and when she left town without telling him why, he was devastated. Unfortunately, hanging out with Caitie's best friend, getting drunk with her and getting her pregnant was not the best way to deal with it. That kept him from going after her when he finally discovered where she was. Seven years later he has to deal with her being back in town. I loved seeing him be the one to rescue her a couple times and the effect it had on him. He soon realized that he had never really gotten over her. Their reconciliation seemed to happen pretty easily. I enjoyed the way that Nate was there for her and helped her do things at her parents' house. I loved the hose and paint scene. Nate didn't want her to leave town again, but he was determined that he wasn't going to ask her to stay, that it had to be her decision. Things were going along pretty well until he had an attack of insecurity. I really wanted to shake him when he was being such an idiot.
There were also side stories involving Caitie's parents and sister. Besides her job loss and Nate, Caitie was also dealing with her mother's Alzheimer's diagnosis. There are several occasions when it is Nate who is there for Caitie when she needs him. It was difficult to watch as her mom has more frequent episodes and the effect it has on Caitie. I loved the way various friends stepped in to help as they learned what was wrong. Caitie also reunites with her sister, with whom she's had a rocky relationship. I'd like to see Kelly get her own story, once she's had a chance to grow up a little.