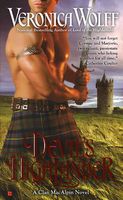 Series:
Clan MacAlpin
(Book 1)
After Scotland's civil wars, the orphaned brothers and sisters of the MacAlpin clan reclaimed the abandoned Dunnottar Castle as their birthright. Hardened in battle and haunted by family secrets, these fiery Highlanders must rely on each other as they right the wrongs of their troubled history.
Before she can give herself to him, he must forgive himself.
Cormac MacAlpin lost his innocence too young -- he's always blamed himself for the kidnapping of his twin brother, Aidan. He turned away from his childhood friend, Marjorie Keith, denying the prospect of happiness with the young woman who loved him.
Now a tormented war hero working as a fisherman, Cormac is speechless when Marjorie comes to him with an appeal for help...a poor city boy she's been caring for has disappeared, reminding her of long-lost Aidan. Their bond of shame once thwarted a budding romance and threatens to again -- but Cormac and Marjorie are adults now, with needs too powerful to keep locked away...
Good story of love and redemption. Cormac and Marjorie had been good friends as children, along with Cormac's twin brother Aidan. When they were ten, Aidan was kidnapped as they were playing. Both Cormac and Marjorie felt responsible and it affected them deeply. They turned away from each other and moved on alone. Marjorie devotes herself to good works, spending her time caring for orphaned boys. Cormac took himself off to fight in Scotland's wars and has returned scarred and bitter. When Marjorie comes to him for help finding a missing boy he refuses, feeling that it's no use. But he can't let her attempt it on her own, so off he goes to help.
I was a little torn about Marjorie. I liked the way that she's so intent on helping the boys of the city, especially to keep them safe. She's never forgotten what happened to Aidan and blames herself for the game they were playing at the time. When one of her boys goes missing she's sure that it's the same thing that happened to Aidan, so she heads off to ask Cormac for his help. She'd always been in love with him and expected to marry him, but feels that he blames her for Aidan's disappearance. She's willing to deal with that to get Cormac's help. When he refuses to help her she tells him she'll do it without his help and stalks off, but is secretly relieved when he agrees to help after all. There's a lot of heat between them now that they're grown, but they attempt to resist it at first. Marjorie is trying to concentrate on saving Davie. I got rather frustrated with her at times because she asked for his help but then argued with him every time he tried to do something. Being around him so much brought her feelings back to the surface and they got stronger throughout the book. I did like the way that she tried to show Cormac that Aidan's disappearance wasn't his fault. She also worked hard to show him that what he did during the war doesn't affect the way she feels about him. But it seemed like every time they made progress in their relationship something would happen to cause them to pull apart. I often felt like she didn't really have enough faith in him. She nearly ruined everything at the end, but they managed to pull it off.
Cormac had always loved Marjorie and planned to marry her when they grew up. After Aidan was kidnapped he felt so guilty that he couldn't be around her. After he returned from fighting he felt especially damaged by the things he had seen and done. They left him seeing only the bad things in life. He spends his time fishing, a job he can do alone so he doesn't have to inflict himself on other people. He's surprised by her request for his help, but feels that it's too late to do anything. He can't stand the idea of her trying it on her own, so he goes along to keep her safe. But being with her all the time is hard on his heart as his love grows stronger, but his guilt won't let him hope for happiness. It was kind of fun seeing him try to resist her as she pulls out all her tricks to get him to admit his feelings. I felt kind of sorry for him as he tried so hard to keep Marjorie safe and she kept walking right into trouble. I also enjoyed seeing the way that she broke down his walls and finally got him to accept that he wasn't responsible either. Just as it looked like everything was going to work out there was a surprise twist that threw his plans completely off. I really worried for a bit that it would go horribly wrong, but it didn't. I'm looking forward to the next book.