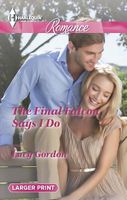 Series:
Falcon Dynasty
(Book 5)
Mr. Right under her nose...
When Freya Falcon is jilted on her wedding day, the notoriously stubborn and brooding Jackson Falcon discovers a protective side brought out by this newly vulnerable woman.
Freya is surprised by Jackson's behaviour. They've spent so long denying any romantic interest in each other that she hasn't seen how kind, thoughtful and downright gorgeous the man really is
But her heart is raw, and despite his charms, she can't quite trust him.... It's up to the final Falcon brother to prove to Freya that he has indeed been Mr. Right all along.
I really enjoyed this final book in the Falcon Dynasty series. Freya has spent a long time resisting her stepfather's attempts to marry her off to one of his sons. She and Jackson have been friends for a long time and when he comes to her rescue after she's jilted on her wedding day, she's more than willing to lean on him for awhile. When she finds out he's hidden some of the truth of that day, she's devastated by the deception. It kills the trust she used to have in him and she vows to protect her heart from now on.
I really liked Freya most of the time, though there were a couple times I wanted to shake her. I really like the way that she's had the strength of will to stand up to Amos over his matchmaking. Finding out what he had done to cause her humiliation infuriated her. When Jackson helps her, she is grateful for it but worried because she's feeling a hint of attraction to him. While she is fine with friendship she finds him too much like his father for her comfort. She has seen him bulldoze and manipulate just like Amos does and she wants no part of it. When she discovers his deception about his part in her jilting made things even worse. She tries to get her friendship with him back on track, but she has that pesky attraction to deal with, plus her loss of trust. Spending more time with him both strengthens her feelings for him and confuses her because of some of the negatives she perceives. I got somewhat frustrated with the way that she saw so much negative, but couldn't see the positive aspects of him. As Jackson starts to expose his feelings to her, she resists with all her might. Her heart might be leaning toward him but her head can't believe that he really cares that way. I loved the way that she finally saw the truth and was able to let go of her fears.
Jackson had been attracted to Freya when he first met her, but because of his father's meddling buried those feelings deep. But there were always sparks between them that they buried under teasing arguments. When he inadvertently gave her fiance the motivation to bail out, he felt terribly guilty. He couldn't bring himself to tell her everything as he tried to protect her from the hurt. He also discovered that those buried feelings were starting to come back to the surface. He would try to show her how he felt, but she would shut him down because of her unwillingness to risk her heart again. I really loved his protectiveness even though it seemed to keep getting him into trouble with her. I loved the end and seeing him try to be all noble about the way her ex wants her back.
There was also a secondary story with Amos and his wife. It looked like he was going to continue being the jerk that he's always been until he overheard Freya and Janine talking about what had happened. It was really neat to see him finally understand how his manipulations hurt people.