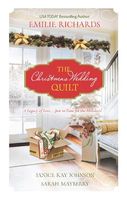 A FAMILY'S GIFT
When they were young, cousins Ella, Rachel and Jo were always together at their family's lake house. As they grew up, though, they grew apart…until now, as the three must band together to grant a beloved aunt's dying wish: to finish the quilt she began as a gift for her daughter's Christmas wedding.
Let It Snow by Emilie Richards
Searching for vintage quilting fabric, independent Jo is reunited with the man she thought she'd marry—and proves that sometimes the second time's the charm….
Jo returns from an overseas trip to find the beginnings of a wedding quilt from her aunt who had passed away. She is supposed to do part of the quilt, then pass it on to her two cousins for them to do their parts before giving it to another cousin as a wedding gift. In order to do it justice she takes vacation time and returns to her aunt's hometown to search for the right material. She arrives in the middle of a blizzard and is rescued by her old flame Brody. They had gone their separate ways ten years ago, but now have a chance to start over. Jo has been feeling unappreciated by her boss and is enjoying being back in Kenowa Lake. She finds that being around Brody again has reignited her old feelings and she really wants to have the time to spend with him. Brody remembers how much he loved Jo and is thrilled to have her back in his life. He'd like nothing more than to make it permanent but he's in financial trouble and feels it wouldn't be fair to ask her to share those problems. Jo's job involves helping businesses improve their procedures and she would love to help Brody out but he hasn't confided in her or indicated what his feelings for her are. She's considering striking out on her own and moving to Kenowa Lake but hesitates to tell him about it. Like their favorite Christmas story, The Gift of the Magi, they're willing to give up their own dreams to help the other.
You Better Watch Out by Janice Kay Johnson
Ella is desperate when the unfinished quilt goes missing in her care. But a cocky lawyer might just help her find it— and find love.
Ella has finished her part of the quilt and is ready to send it on to Rachel when her car, with the quilt boxed and ready, is stolen. She nearly knocks Brett over as she tries to chase after the car. He offers to help her follow it and as they do he hears the story behind the quilt. When they lose sight of the car he offers to help her again the next day. Brett is a defense lawyer who has not been having a good time of it lately. He's a bit burned out on working for the bad guys instead of seeking the justice he dreamed of when he was younger. Instead, he's trying to live up to what he see as his father's expectations. Helping Ella over the next few days as they search for the missing car and quilt helps him see where his heart really lies. Ella herself has been dealing with a lot of emotions lately. Working on the quilt has reminded her how much she misses her cousins. She's not sure she feels worthy of working on such an important project as she still carries a lot of guilt from the death of her mother. She blames herself for the distance between them at the time, as she was thirteen and in the midst of a really obnoxious time. Brett helps her let go of those feelings as they get to know each other. I loved the way each of them was able to help the other sort out the feelings that were bringing them down. I loved the way Brett was able to save the day.
Nine Ladies Dancing by Sarah Mayberry
Shy Rachel risks exposing her secret life when she falls for her quilting teacher's seemingly perfect son.
Rachel had moved to Australia with her mother when she was a teen. Her high school years had not been the greatest and Leo was one of the problems. He'd been a really obnoxious teenage boy and she overheard him making very derogatory comments about her. More than ten years later it still hurts. When she receives the quilt she knows she's in trouble. It's been so long since she did any quilting she's afraid of ruining it. One of the patrons at the library where she works is a quilter, so she asks for help. Gabby offers to teach Rachel what she needs to know to do her part of the quilt. Rachel doesn't expect to see Leo there and is very cold to him at first. After he discovers why and makes a proper apology they begin to get to know each other. Leo is recovering from injuries received as a firefighter in a blaze that also killed his best friend. He is having a hard time dealing with the grief and guilt. Rachel doesn't try to do anything to cure him, she just provides a sympathetic shoulder to lean on. I loved seeing the way that he really opens up to her. He begins to feel a real connection to her and picturing a future, but doesn't know if she can ever forget his past. Meanwhile, Rachel discovers that he has matured from that odious teenager and that they have a lot in common. I loved seeing them hanging out together and getting to know each other. I really liked his coolheaded approach to her crisis at the end and how it all came together for them.
Together, Jo, Ella and Rachel create a Christmas heirloom that's both a wish and a promise—of happiness, hope and love everlasting.
I loved the last chapter as we see Olivia waiting for Eric's arrival home from the war. Their happiness at being reunited is added to by the arrival of Jo, Ella and Rachel. The reunion of the four girls brings home to them just how important their family is to them.