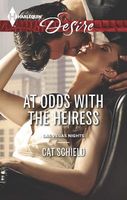 Series:
Las Vegas Nights
(Book 1)
What happens when the man she loves to hate becomes the man she can't live without?
Actress turned casino mogul Scarlett Fontaine uses her beauty to get what she wants. But it doesn't work with Logan Wolfe. Now the infuriatingly gorgeous security expert needs her help. Finally, Scarlett sees her chance to show him she's more than just a pretty face.
Yet when her safety's at stake, their flirtatious games turn serious. Scarlett suddenly needs him, too. As things heat up, their steamy kisses--and steamier nights--make her wonder: is the man who has always tormented her finally showing his true colors?
Scarlett uses the abilities she learned as an actress to get people to do what she needs them to do. She may not have the business training to run her casino/hotel, but she knows how to hire the people she needs to get the job done. She's always had a somewhat hostile relationship with Logan, whose security firm works with her family's casinos. She senses his disdain for her abilities and loves to torment him. Logan has never understood why she was given one of the casinos to manage since she doesn't have the training to do it properly. Seeing her use her beauty to get things done just irritates him. Now he needs some help from one of the sisters and she's the only one available. His niece is visiting for the summer and he's been given the job of convincing her to go to college not run off to Hollywood to become an actress. He doesn't see Scarlett as being the right one to get that point across.
Scarlett has her work cut out for her to show Logan that she is actually very capable of running her business. Her enjoyment of irritating him is her way of dealing with her attraction to him. She is hurt by his refusal to believe that she can properly guide his niece. Working with him because of Madison shows her that the attraction is not one-sided. Logan has been fighting his attraction to Scarlett for years, but finally gives up the fight. The heat between them is intense and his lack of control bothers him. He also doesn't trust that she's going to stay around, that if she's offered a chance to go back to acting she'll take it. He was previously hurt by a woman who put her career first and he doesn't want to risk it happening again. I loved Scarlett's different way of looking at things and how she used it to run her business. She was also better able to relate to Logan's niece Madison. I loved seeing how the relationship with Logan grew once they stopped fighting the attraction. I liked the way that Logan's attitude toward Scarlett started to change as he actually got to know her. He started to fall for her but that lack of trust caused him to expect her to leave at any time. Because of that he gave the appearance of pushing her away just as things got more intense. Some of the things he said to her hurt her badly, which he knew as he said them, but he couldn't seem to stop. I loved seeing him make things right at the end.
I loved the way that Madison was used to show the differences between Logan and Scarlett, but also that compromises were possible. Though there are times she seems a bit spoiled, most of the time she has a great outlook. I loved her relationships with both Scarlett and Logan and how important she was to both of them. Though she could have communicated her intentions better, I loved the way she took charge of her life at the end.
We got a bit of a mystery in this first book of the series when Scarlett inherits a whole bunch of information about many people in Vegas, including her own family. There is some information about one of her sisters that could cause a lot of heartache and trouble and Scarlett isn't sure what to do about it. It also puts her in some danger as she is attacked and some of the files are stolen. While that culprit is caught, I suspect that the information about her sister will have an important part in a later book.