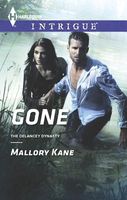 Series:
Delancey Dynasty
(Book 9)
Marcie Powers saw her son everywhere. For two years, no stroller or baby seat passed without his face. She saw him so much, not even her estranged husband, Joseph, believed her. So he wasn't surprised when she claimed to have found their son once again. Yet this time, she wasn't hysterical. There was something...different. And although she couldn't have known it, news of Joe's own secret parentage was about to hit Louisiana headlines--and it would put his son at risk for a big payday. Now Joseph and Marcie will have to trek through the bayou at the whims of a kidnapper to find the son they'd thought lost to them forever--and reclaim the love between them....
Very good book. There was a lot going on in a short period of time that kept me going so I could find out what was going to happen next. Joe and Marcie's son had been stolen two years earlier. Joe blamed himself since the baby had been with him at the time. Over those two years Marcie had never stopped looking, but had called the police so many times about possible sightings that no one believed her any more. This time, when she thought she saw him, she didn't get hysterical but kept her head, noting things that would help find him again. Since she couldn't go to the police she went to Joe. Joe was hesitant to believe her, but took a chance and investigated, only to discover that this time she was probably right. Unfortunately for them news about Joe would give the kidnapper ideas that put them all at risk. Marcie and Joe have to get past the hurtful things they've said and trust each other as they work to get their son back.
I mostly like Marcie. Her actions after Josh was kidnapped were expected and the stress it put on their marriage is not unusual. I was glad to see that she was still able to go to Joe when she needed help, even if he was her last resort. I loved seeing the difference in the way she treated this sighting and how relatively calm she was in describing the details to Joe. I liked the way that she allowed herself to be guided by him in dealing with the ransom demands. Being near Joe again reminded her that she still loved him but she felt that he wouldn't be interested in getting back together after all the terrible things she said to him. Working together brought them closer again and she began to hope that they might have a future together again. It was painful to see her backslide in her attitude near the end, but really moving when she had the courage to lay out her feelings to him.
Joe has had a terrible time dealing with his guilty feelings and what he sees as his desertion of Marcie. He had only left her because he felt that having him around only reminded her of his guilt. He gave up his good job as a lawyer and went to work for the National Center for Missing and Exploited Children as a way to deal with those feelings. When Marcie showed up at his apartment with yet another story of a sighting he wasn't inclined to believe her at first. He tries to get her to give up and move on, but finally agrees to investigate. When he does he is amazed to discover that this time Marcie seems to be right. At the same time, Joe finds out that his father had been the head of the Delancey family, who his mother had had a long affair with. When this information hits the news, Josh's kidnappers decide to use it to get a lot of money from Joe. Joe's pride doesn't allow him to ask for help from them so he sets up his own plan. I really loved the way that Joe worked so hard to come up with a workable plan and then find a way to protect Marcie without her knowing about it. His feelings for Marcie had never changed but he was sure that she still hasn't forgiven him for losing Josh to start with. His pain at the end when he thinks he has lost Marcie for good is overwhelming and his joy when he learns differently is fantastic.
I loved Ethan's appearance and how he became an important part of the story. I loved that he accepted that Joe is part of his family without any problem. He also trusted his cop instincts when he sensed that something was going on with Joe's missing son. It was great to see him take steps on his own that ended up saving the day. The only thing I would have liked better would have been an epilogue with Joe and family meeting the rest of the Delanceys.