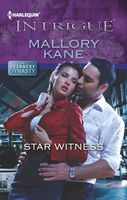 Series:
Delancey Dynasty
(Book 6)
STORM ON THE HORIZON

Dani Canto has precious few people she can trust. As prosecutor Harte Delancey's star witness against her grandfather's murderer, she's become a prime target-"and" a courtroom pawn. Protective custody seems to be the only solution, but she's not expecting Harte Delancey to be her personal bodyguard.

PASSION ON THE RISE

Harte vows to protect Dani himself to ensure her safety and testimony. After all, winning the case will also settle an old family obligation. But earning her trust is key. Now with a raging storm threatening New Orleans and gunmen on their heels, Harte must break down the walls Dani has erected around herself. Once he does, not only does he find unexpected passion, but the certainty that the only safe haven is within each other's arms....
Good book. After someone tried to run her down Dani is put into protective custody by prosecutor Harte Delancey. She and Harte have faced off in the courtroom several times as public defender and prosecutor, but right now he is the one in charge of the case against her grandfather's murderer and she is the best witness they have. While hiding out from the people after her, she and Harte prepare for the trial until they are found and attacked again. They escape out into a raging spring storm and have to evade the bad guys as well as protect themselves from the storm. Thrown together like they are under intense circumstances, the desire that has been simmering between them intensifies with the storm.
Dani was raised by her grandfather and is still coping with the grief of his loss. She has channeled that grief into the determination that his murderer pay the price. Dealing with Harte has been a bit of a challenge for her. Not only because they are usually on opposite sides of the courtroom, but also because she has been attracted to him since they met. She does her best to resist it, often resorting to sarcasm and confrontation to keep him at a distance. When they have to depend on each other for safety and escape she has to allow herself to trust him. I loved seeing the way that she did stand up for herself, not allowing herself to be completely ruled by him. She had a great way of seeing his two sides - the prosecutor attitude that was separate from the man she got to know. I also loved the way she got them into the warehouse to hide, completely surprising Harte with that particular skill. As their attraction grew stronger Dani worried that he considered it just a reaction to the stress while she found that her feelings were involved. The chase through the storm was very exciting and kept me riveted until the conclusion.
Harte is the odd man out in his family. His brothers are all military or law enforcement while he chose to go into law. They tend to give him a hard time though as a family they are very close. Harte has been interested in Dani since he met her, but they got off to a rocky start when they worked opposite sides of the same case. Now he has to prepare her as a witness in an important trial. When he hears about the attack on her he pulls some strings and gets her into protective custody. Making sure that she is safe is very important to him. He comes across sometimes as arrogant but I loved seeing how wonderful he was with her when he discovered her fear of storms. His feelings for her were growing but he also had to make sure he didn't do anything that would affect the upcoming trial. I really liked seeing his surprise at some of her abilities and also the way she stayed pretty focused during the chase. I loved seeing him realize how much he wanted Dani to stay in his life even though he wasn't sure of her feelings. I enjoyed the ending scene in the courtroom.