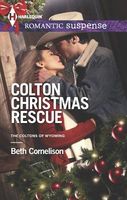 Series:
Coltons of Wyoming
(Book 6)
Join the Coltons of Wyoming for a holiday showdown at Dead River Ranch

Deep undercover, Wyoming special agent Slade Kent comes to Dead River Ranch with only one thing in mind: justice. Bent on solving a string of recent crimes, as well as his father's long-unsolved murder, he won't let down his guard for anyone. Until beautiful heiress Amanda Colton and her baby are attacked. He'll do anything to protect them…even put his heart on the line.

Amanda's done with deception, but the irresistibly mysterious Slade draws her trust. When danger -- and uncontained passion -- spark, they must both put aside secrets and agendas for survival…and love?
Fantastic wrap up of the series. Everyone is on edge as the kidnapping attempts continue. Slade has been sent to work undercover to solve the mystery. He also wants to discover who was behind his father's murder ten years ago. He doesn't want to get involved with Amanda. Meanwhile, Amanda will do everything she can to protect her daughter. Slade's secretiveness worries her until she discovers who he is. Then she has to try to fight her attraction to him to concentrate on helping Slade solve the mystery.
I really liked both Amanda and Slade. As the oldest of the three Colton girls, she is the one everyone looks to while her father is ill. She is also a single mother and a veterinarian which adds more pressure to her. She is very independent and doesn't like to rely on anyone else for something she feels she can do. I loved the first meeting between her and Slade. He acted like she wasn't up to taking care of the sick horse and really treated her like a spoiled brat. I loved seeing her show him just what she could do and how he pretty much had to eat his words. There were definitely a lot of sparks between them from the beginning. Amanda also has trust issues because of her baby's father and she senses that Slade is hiding something. I liked the way they cleared that issue early on and promised to be honest with each other. I loved seeing them work together to solve the mystery. There were some great moments with Amanda making sure that Slade knew that she would be involved in every step. Her appearance at the airport was so much fun to read. Amanda also realized she was falling for Slade and had no idea if he would ever return her feelings because of his own past.
Slade was determined to solve the crimes and the mystery of his father's death. He's certain that the Coltons have been covering up the truth all these years. He initially views Amanda with a great deal of suspicion. When he saves her daughter from an attempted kidnapping he starts to realize that his suspicions were unfounded. I liked the way that he did tell her who he was and why he was there. His attraction to her bothered him because he doesn't want to have feelings for another woman and child. He hasn't recovered from the deaths of his wife and daughter and doesn't want anyone relying on him because he doesn't believe he's deserving of it. Being around the baby brings back his pain and he tries to stay away from her. I loved the way Amanda just stuck him with her and how Slade and Cheyenne ended up playing together. Besides showing Amanda what a nice guy he was underneath the grouchiness, it also started healing Slade's heart. Even though he was resisting it as hard as he could, Slade's feelings for her were just as strong.
As the concluding book in the series, everything got tied up very well. I suspect that pulling it all together while keeping it believable was not an easy task. There were some interesting twists. The Mastermind was who I suspected, but the reasons were a complete surprise. The person who kidnapped Cole was also a surprise, though we never got a reason, which I would have liked. The death of Slade's father was also explained. One of my favorite things was seeing Darla and crew get what was coming to them. I liked the final catch up on the couples, and loved the decisions made about inheritances. I loved this series and hope to see more Colton stories.