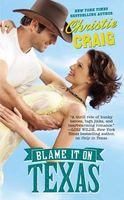 Series:
Hotter in Texas
(Book 2)
Zoe Adams has always been content with her quiet nights at home, watching TV alone-until her life turns into a real-life episode of Unsolved Mystery Hunters. The story of a kidnapped girl triggers unexplained memories, and Zoe is dead-set on figuring out why. Her search leads her to one of the Lone Star State's richest families-and to sexy PI Tyler Lopez.

Tyler has sworn off women, especially redheads with killer curves who poke their noses into his clients' private lives. Still, he can't deny the attraction any more than he can deny that some of Zoe's crazy story makes sense. But when she becomes a hit man's target, this cold case starts heating up. Suddenly, Tyler will do anything to protect Zoe-even risk his heart.
I loved this book. It's a great blend of humor, heat and mystery. We have Zoe, who has taken a one month leave of absence from her teaching job to investigate questions she has about her past. Then there's Tyler, ex-cop ex-con turned PI who finds her poking around his desk looking at his files. He's not sure he believes her story, but when someone starts taking shots at her he starts thinking she's not so nuts after all.
I loved Zoe as a heroine. She's really smart, she's independent, and she's determined to get to the bottom of the mystery of her memories. She's also pretty emotional and gets caught up in some things she isn't quite sure how to deal with. Her first meeting with Tyler is pretty funny. She's poking around in his office when he gets back from playing a clown at his niece's birthday party. Problem is, she's terrified of clowns. She flees, and the next time she sees him is at the diner where she works, where she accidentally dumps a tray full of food on him. Once they've both recovered from that, they finally get down to the business of discussing why she's there. I really liked the way that Zoe stuck to her story, even though she could see that Tyler was skeptical. Zoe also has to deal with her attraction to him. She's only there for a short time, plus he's made it clear he doesn't do commitment. Her brain tells her to resist, but her heart and body have other ideas. It's a little frustrating when she seems to blow hot and cold around him, but when she makes a decision she runs with it. The strip Scrabble game was hilarious. Zoe has a terrific way of being able to see the real Tyler. Her defense of him when they were at the police station was something that he really didn't expect. She falls in love with him but doesn't believe that he returns the feeling.
Tyler is a really interesting hero. He and his friends Dallas and Austin run their own PI firm. They are also actively trying to find out who framed them for a murder that sent them to prison until they were exonerated. Between that and the fact that his girlfriend bailed on him at the same time, Tyler hasn't been the most cheerful of people lately. He took the time to help out at his niece's birthday party because his family is important to him, but it doesn't help his mood any. Finding Zoe in his office gives a boost to his day because of the instant attraction he felt to her. I loved the way he couldn't get her off his mind until he figured out who she was. His skepticism about her story didn't last long once he found out about the attacks and got more information from her. I loved the protectiveness that kicked in right away. Tyler has decided that a committed relationship isn't in his future because of the issues of his past. Tyler is quite a hunk, but he is also something of a geek though he doesn't flaunt his smarts. He uses logic to make his decisions until he starts being around Zoe. Something about her has totally derailed his ability to be logical. He can be really awkward around her when he's trying to make moves on her, or when he tries to apologize for something, but his ability to cheer her up is sweet. I loved the scene where she is trying to protect her cat from Dallas's dog and Tyler gets a real eyeful. His honesty about his actions and reactions goes a long way toward cementing Zoe's feelings about him. When Tyler finally admits his feelings to himself it scares him because he's lost so much before. I loved what he finally did about it.
The developing relationship between them is really well done. Neither one feels that a relationship is what they want. Zoe isn't staying in Texas, plus she was burned in a previous relationship. She doesn't really trust herself or her judgment. Tyler doesn't believe that love is in the cards for him either. He sees all the ways that love can go bad and figures that staying away from the emotional risk will protect him. Both of them have to learn how to trust their hearts.
The mystery regarding Zoe's identity is pretty good. With the unsolved mysteries show giving her a lot to think about regarding some of her memories and nightmares, she takes things into her own hands to get some answers. I loved the way that she remained certain of her beliefs. I liked how the guys worked together, using their individual strengths, to get the answers she needed. There were a lot of pieces to the puzzle and I really enjoyed seeing Tyler put them all together. I liked seeing Zoe's faith in her parents restored at the end of the book.
There's a great secondary romance between Rick and Ellen. Rick is a cop who suddenly gets custody of his son and is desperate for help with what to do. Ellen is a single mother whose ex is an emotionally abusive scumbag. They are attracted to each other but have major issues dealing with their exes and children. I loved Rick's vulnerability when it came to being a father and Ellen's desire to see that he can do it. Their relationship is almost as tricky as that of Tyler and Zoe. I really enjoyed his actions at the end.
As the second book in the series, the characters from the first book Don't Mess With Texas were also present. I am really looking forward to reading Austin's story and getting the resolution of the guys' false imprisonment.