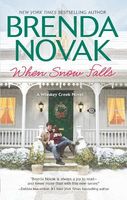 Series:
Whiskey Creek
(Book 2)
After growing up in cheap motels, moving from town to town with her sister and mother, Cheyenne Christensen is grateful to be on her own. She's grateful, too, for the friends she found once her family settled in California. But she's troubled by the mystery of her earliest memories, most of which feature a smiling blonde woman. A woman who isn't her mother.

Although Cheyenne has repeatedly asked for explanations, the people who could help aren't talking. Cheyenne is set on finding answers, but without so much as a birth certificate, it won't be easy.

Things get even more complicated when her closest friend is attracted to the man Cheyenne has secretly loved for years. For Eve's sake, she decides to step aside -- which lands her right in the arms of Dylan Amos, oldest and baddest of the hell-raising Amos brothers. He's the kind of guy she's sworn to avoid. She can't afford to make a mistake, not when she finally has a chance to learn who she really is and change her life for the better. But…maybe there's more to Dylan than she thought. Maybe letting him go would be a bigger mistake.
Excellent book. Cheyenne and her sister had a miserable childhood being dragged all around by their mother who was an alcoholic, sometimes prostitute, sometimes con artist. They finally settled in Whiskey Creek when her mom got cancer. Chey took to small town life easily, made some good friends and has created a good life for herself. She's had a crush on her friend Gail's brother Joe for years, but when her friend Eve shows an interest in Joe she steps back. Meanwhile, bad boy Dylan Amos has been interested in Chey for a long time. When he sees an opportunity to snag her interest, he goes for it. Now he has to convince her that he's what she wanted all along.
I really liked Cheyenne. Throughout her life she has tried to do the right thing. She wants a far different life than the one her mother and sister are living. I liked the way that she kept her eye on her goal. She has also felt out of place in her family. She doesn't look like them, plus she has memories of a different life that make her wonder if she is who they say she is. Chey has been waiting for the guy she's had a crush on for years to notice her, but when her friend Eve states her intention to go after him Chey steps aside. Chey does go on one date with him while Eve is away after Eve tells her to, but discovers that there just isn't any zing. Meanwhile, she has met Dylan Amos, the oldest of the Amos brothers. He has a reputation as a bad boy and she doesn't want to screw up her life taking a chance on trouble. But the heat that was missing with Joe is there with Dylan and Chey can't stay away from him. As she gets to know him, Chey discovers that Dylan is different than she thought. I liked the way that Cheyenne follows the girlfriend rule of not poaching on another's man, even though she had liked Joe for a lot longer. Her one date with him showed her that there was nothing really there, even though she wanted there to be. When Dylan approaches her and makes his proposition she is offended at first, but she can't get him off her mind. I thought it a little odd that after holding on to her virginity for all those years she gives in to Dylan so quickly, but the heat is definitely there. I didn't really like the way that she was so judgmental at the beginning, looking only at his reputation. It was good to see her realize that in spite of his reputation he was really a good man. I loved the way that she came to depend on him when she needed support. I also thought it was great how she stood up for him to her friends. She finally grew confident enough in herself to be able to please herself without worrying about what other people think.
I also liked the way that Chey takes care of her mother and sister in spite of the way that they treat her. She has been trying to get answers from her mother for years about her missing birth certificate and the memories that are so vivid. Mom is a real piece of work that I never did develop any sympathy for. I really hoped that she'd come clean before she died. I liked the resolution of Chey's identity, though it seemed almost anti-climactic after all the attention the questions got during the book. Chey's sister Presley seems to be going down the same road as their mother. She is an alcoholic and drug addict and is very selfish. I developed some sympathy for her as the book went on and I saw that it was her way of coping with her life. I liked the way Presley took control of her life at the end and I look forward to reading her story.
I loved Dylan. His childhood hadn't been all that easy either. His mom committed suicide when he was young, then his father became an abusive drunk who ended up in prison. Dylan dropped out of school to take over the family business and raise his four brothers. He developed a reputation as a hell raiser when he was younger as he was coming to terms with his new life. For the past several years he has turned it around and no longer gets in trouble, except when he is rescuing his brothers. I really liked the way that his family was so important to him. He has long been interested in Cheyenne, but knows that a good girl like her isn't going to want anything to do with him. I loved seeing him get up the courage to go after her, even though he was kind of crude about it. He really didn't expect her to take him up on it, but when she did he was wonderful. I loved the way that he was so gentle and loving. He really didn't deserve her attitude over the next days that he wasn't really what she wanted. In spite of it, he was there for her when she needed him. There was a vulnerability about Dylan that made him even more appealing. I really loved seeing the softer side of him when he gave Chey her Christmas present. I loved seeing him open up to her about his own past as they got to know each other. He gave her a lot of emotional support in her search for the truth about her past, and also in finding her sister when Presley disappeared after their mother's death. I loved the ending on the porch of the B & B.
One thing I had trouble with during this book and the previous one When Lightning Strikes was the attitudes of the group of friends. They are basically good people, but they tend to be very judgmental. In both books the women are told by their friends that they are making terrible mistakes by getting involved with their chosen men. It doesn't seem to matter that none of them actually know the men in question, they base their opinions solely off reputations and gossip. Even on the cruise we see them making comments about other people that aren't very nice. I hope that they learn a little compassion soon.