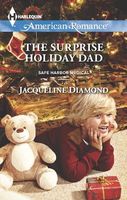 Series:
Safe Harbor Medical
(Book 12)
Father, Meet Son
Safe Harbor obstetrician Adrienne Cavill couldn't love her nephew more if he were her own child. And no deadbeat dad is going to claim the little boy she practically raised.
Detective-turned-P.I. Wade Hunter has missed five years of his son's life and nothing's chasing him away this time. That includes the pretty doctor who's giving his child everything--except the father he needs.
Now that she knows the reasons why he left, how can Adrienne keep Wade from his son, who's over the moon about having his dad in his life? The rugged ex-cop's having a similar effect on her. Will Christmas bring Adrienne the family she never thought she could have?
Good book. Once Wade finds out that his son's mother has died. He can't wait to finally get to know Reggie. His ex-girlfriend had had some mental issues and had refused to allow him to see his son. He was good about sending child support but missed being part of his son's life. He wasn't happy when he found out that Reggie's aunt was trying to adopt him and arrived in Safe Harbor ready to fight for his rights. Adrienne has been Reggie's main caretaker for most of his life. Her sister had always claimed that Reggie's father was a deadbeat who abandoned them, so she didn't anticipate any problems adopting him. She's surprised to find out the truth and that Wade intends to be a father to Reggie.
I really liked both Wade and Adrienne. Both had grown up in dysfunctional families but had come out of it pretty normal. When Wade finds out about his ex's death all he can think about is finally being able to be with Reggie. He doesn't think about the effects of his appearance or what would happen if he just took Reggie right away. Once he meets Adrienne and sees how important she is to Reggie he knows that they have to find a way to work together. Adrienne had spent so long believing the worst about Wade that it took her a little while to accept the truth. She fears that Wade will take Reggie away completely and that she'd never see him again. When she discovers that Wade is not the monster she thought he was, she begins to have hope that they can work things out between them.
I loved the fact that both Wade and Adrienne put Reggie's needs first. Wade realized that there was a lot he didn't know about parenting and he was willing to learn from Adrienne. She was also able to see that Reggie needed his father as well as her. Wade had some insecurity about how well he would do as a father because his own father wasn't a very good example. Meanwhile Adrienne has some of her own issues to deal with that feed into her own fears. I love the way that their shared backgrounds bring them even closer together. The buildup of their love is gradual as they learn to trust each other and the ending is excellent.