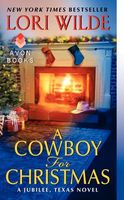 Series:
Jubilee, Texas
(Book 3)
It's Christmastime in Jubilee, Texas, but Lissette Moncrief is having a hard time celebrating . . .
Especially after she accidentally smashes her car into Rafferty Jones's pick-up truck. Yes, he's a whole lot of handsome -- from the tips of his boots to the top of his Stetson. But he's no Christmas present. Lissy's not about to let herself get whisked away by his charming ways and words . . . only to watch him drive away in the end.
But what Lissy doesn't know is Rafferty's in town just to meet her -- and to give her a share in a windfall that doesn't rightly belong to him. At first, he just wants to do his good deed and get out. But one look at this green-eyed beauty has him deciding to turn this into a Christmas to remember . . . making promises he's determined to keep -- whether she believes in them or not.
Very good book. Lissy has had a rough few months. Her husband was killed in Afghanistan, and she discovered that he named his half brother as his beneficiary, leaving her with nothing. And now she has found out that her two year old son is going deaf and there is no way to stop it. Enter Rafferty Jones, Jake's half brother, who has come to Jubilee to give the money to her. He wants to give her the money and be on his way home, but something about her has him deciding to stick around for a little while.
I really liked both Lissy and Rafferty. Lissy has accepted Jake's death and the blow of not having his benefits. What she's having trouble with a the start of the book is the news that her son is going deaf and there's no cure for it. She's in the middle of a meltdown when she runs into Rafferty's truck. His kindness and understanding help her calm down and they go their separate ways, not knowing their connection. When he shows up at her door to tell her why he's there she is stunned. But she's finally getting to the point where she likes her independence and she turns the money down flat and sends him away. He comes back and offers to train the horse Jake left her so she can sell it for a higher price, so she agrees to let him stay. Lissy started out in the book as a woman finally starting to find out who she really is. She has been a peacemaker all her life, never wanting to be the one to rock the boat, even as a child. Her husband had been a man who tended to steamroll over anything that didn't suit his wants, so being on her own is different. Rafferty's offers of assistance worry her because she doesn't want to begin to depend on him and lose herself again. What she found was that he would simply make suggestions and leave the decisions up to her. He offered her support and stood behind her when she'd make a decision. I really loved seeing her develop the backbone she had never had before. I loved the scene at Thanksgiving dinner when she stood up to her whole family, shocking them all. Another thing that Lissy had to contend with was her mother in law's attitude toward Rafferty, who was the illegitimate son of her husband. Again, her growing confidence in herself allowed her to do what was right for her and her son rather than cave to Claudia's demands. But the best part of all was Lissy's gradual realization that Rafferty was the man she needed in her life if she could just overcome her fears. She feels guilty having these feelings for him so soon after Jake's death, but their marriage had been in trouble for a long time. She also isn't sure if the feelings are real or just another form of gratitude for the help he has given her. Besides, he has a life in California that he will be going back to soon. She just needs the courage to reach out for what she wants.
Rafferty was a really great guy. He had had a rough childhood with a bipolar mother who he took care of even when he was a child. He also did his best to care for his younger brother and sister. When he was sixteen he discovered he had an older brother when Jake showed up after finding out about him. Jake stayed with them for the summer, helping Rafferty with his family, and continued to try to be there as he got older. Meanwhile, Rafferty got involved with training horses and ended up with his own successful ranch in California where some of his horses were used in movies. He was out of the country when Jake died and didn't know about it for three months. When he found out about the money, the first thing he did was head to Texas to give it to Lissy. Rafferty has a "fatal flaw" in that he can't resist trying to help people who are in trouble, and he really doesn't want to get involved with Lissy and her problems. But he just can't resist the need to help her, especially when she refuses the money. He comes up with a way to help by training Jake's horse. He also discovers that he is really attracted to her, which horrifies him. He can't believe it would be acceptable to be lusting after his brother's wife. The more time he spends with her and her son the more he wants to stay. I really liked the way that, because of his experience with his deaf ranch foreman, he is able to help Lissy learn more about helping her son. I loved the fact that he didn't tell her what to do, but got her the information she needed to make up her own mind. It was great to see how good he was with little Kyle and what a difference he made in their lives. They also made a difference in his life, as being around them showed him what life with a family could be like. He looked at the town of Jubilee and couldn't believe how much he felt like he belonged there and with Lissy. All he had to do was convince her. I loved the ending and how they finally got together.