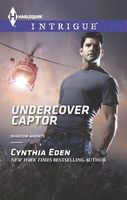 Series:
Shadow Agents: Guts and Glory
(Book 1)
Get rescued by a hero in disguise
The man standing watch over Dr. Tina Jamison was an imposing, scarred figure. Even more frightening was what would happen when her kidnappers discovered they'd taken the wrong woman. Only she didn't realize this same guard was an undercover agent, or that Drew Lancaster left no fellow Elite Operations agent behind.
Running handcuffed together through Texas, Drew vowed to protect Tina against all dangers. For a man who'd fought so may battles, he couldn't afford to lose this one. She'd need to follow his orders to stay alive. But it didn't take a doctor to see that this wounded warrior she'd once feared needed some saving himself....
Fantastic book, a real page turner from the start. Tina is a doctor who works for the Elite Operations Division. She is used to patching up agents when they are done with a mission. She doesn't expect to end up in the middle of a mission herself, but that's what happens when she is kidnapped. Only, it's a case of mistaken identity, and if they discover the truth she'll be dead. Drew has been undercover with this group for several months and is shocked to see Tina. He knows he has to get her away, even if it means blowing his cover.
Tina is a doctor. She became a doctor after seeing her parents killed during a bank robbery and not being able to save them. When she's kidnapped by men who think she's her boss's daughter she is terrified. That terror is slightly relieved when she immediately recognizes Drew as one of her captors, as she knows that he will save her. Drew is the one man that has fascinated her since she met him. She is fully aware of what he is capable of doing and of his reputation for having ice in his veins, but that doesn't stop her heart from jumping whenever she sees him. She has complete trust in him and that he will get them out of trouble. That trust grows quickly into love as she gets to know more about him. I loved seeing the way that what he has done in the past doesn't affect the way she feels about him. Being on the run with him also changes the way she feels about herself. She has always considered herself weak, because she can have asthma attacks when under stress. She considers it a huge drawback to her desire to get closer to Drew, because a man like him doesn't need a woman like her. I loved seeing her strength of will develop over the course of the book. I especially enjoyed seeing her stand up to them all and insist on being the bait for a trap to catch the bad guy. And I loved seeing her get to Drew at the end.
Drew had had a rough childhood, doing things he wasn't particularly proud of just to help support his mother and sisters. After joining the army, then the EOD, there were many who thought of him as a killing machine. He is always very coolheaded as he goes about his missions. He had worked hard at his undercover mission to get to the leader of a terrorist group. Finding Tina as the kidnapping victim is going to blow that cover all to pieces, because he can't leave her in danger. He also discovers that his control also disappears around her. His immediate jumping in to protect her from what the terrorists had planned to do to her got them handcuffed together waiting for unpleasant attention. Drew wasn't sure he was going to be able to get them out of it, but he was going to try. He had trouble believing that Tina had so much trust in him. He believed that he wasn't deserving of all that trust, or anything else that she might be feeling for him. That trust in him started working its way past his walls until he was feeling things for her that he'd never felt for another woman, and it really scared him. He had kept his distance from his own family for fear of what he does coming back to hurt them, he could only imagine how much worse it would be if he allowed himself to love Tina. I loved his conversation with Gunner (
Sharpshooter
) where he asked
"Weren't you afraid? That what we do ... Weren't you afraid it would spill over on them?" "I was more afraid,"
Gunner admitted,
"of trying to live my life without her."
That went a long way toward making him realize he didn't want to live without her. I loved their ending scene.
The suspense part of the book was outstanding. The EOD people knew who it was that had taken Tina. They had set up a sting to catch the guy, but he took the wrong woman. The action was constant as Drew and his coworkers try to get away, with the bad guys right on their heels. It becomes obvious that there is a traitor somewhere in the EOD, so they also have to make their plans and try to protect them at the same time. I loved Drew's focus as he tries to protect Tina while fighting his growing feelings. The final showdown was really intense with all the things that were going on. I loved the part that Cooper played, as the author sets things up for the next book.