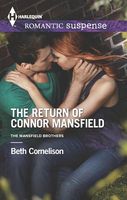 Series:
Mansfield Brothers
(Book 1)
One of the Mansfield brothers was dead to everyone else...except her
Having mourned the "death" of her fiance, Darby Kent isn't prepared for the moment they come face-to-face. For years, the man she loved and lost has lived in hiding. Until now. Connor is the only person who can save their ailing daughter, a living testament to the passion they once shared. But time is running out. And while Darby prays for their daughter's survival, she must confront old desires...and powerful new enemies who've patiently awaited Connor's return.
Plenty of action right from the beginning. It starts with an introduction to the backstory and the violent death of Darby's fiance Connor. Four years later, an insurance company is checking up on Darby's medical claims for her daughter who has leukemia. By pure luck, the employee assigned to check is "Sam" who just happens to be Connor in his new WitSec identity. Stunned to discover he has a daughter, and just how sick she is, he insists on getting tested as a donor. From there it's not long before everyone knows he's alive - including the ones who want him dead.
Connor really wanted to get in and out without anyone, especially Darby, knowing he was alive, but he hadn't counted on the test also pointing out his relationship to Savannah. Now that the cat's out of the bag, he really wants a chance to stay around for a little while and get to know her before he has to disappear again. And he has to disappear or the whole family will be in danger. He also wants the time with Darby, to try to make her understand why he let her believe he was dead. He has never stopped loving her but he couldn't ask her to give everything up to follow him. Connor is one stubborn man and there was nothing the marshals could do to keep him from being there for his family. I loved seeing him get that stubborn attitude going and watch as everything fell before him. The only thing he couldn't do was get Darby to accept the reasons he left in the first place. I loved seeing them grow closer as the days went on, even knowing that they were going to be torn apart again.
Darby was devastated when Connor died. The only thing that kept her going was the daughter they made together. She is terrified that they won't find a compatible donor and she'll be left with nothing. Discovering that Connor is alive both thrills her and infuriates her. She is so angry with him that he left without telling her, without even asking her to go along, that she can barely stand to look at him. She has some abandonment issues because her father walked out on the family without giving any reason and she sees Connor's actions as the same thing. She's grateful that he can be a donor, but she doesn't want to get involved with him again and have both she and Savannah hurt when he leaves again. She can't justify keeping him away from Savannah and watching him with her starts to melt some of the anger away. More time with him only shows her that she never stopped loving him. The only question is, will there be any way for them to be together as a family? I loved the way that Darby used a quote that one of the marshals told her about love "Your task is not to seek for love, but merely to see and find all the barriers within yourself that you have built against it." (Rumi) to get them to try to find a way.
The suspense part of the story was very well done. I was captured by the story from the beginning and was rooting for a way for Connor, Darby and Savannah to be together. I found the dissension between two of the bad guys very interesting, especially with the effect it had on the end of the story. With every page I wondered what was going to happen next. I had a great time watching the agents' frustration dealing with both Connor and Darby, though they certainly got to inflict their own later in the book. There were so many moving parts to trying to keep them safe that it only added to the suspense of seeing if it all worked. I had a question at the beginning of the book about why the third brother was going to have his own story, but that was answered later.