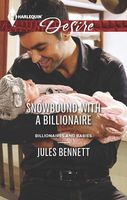 Series:
Billionaires and Babies
(Book 42)
One blizzard plus two ex-lovers equals one passionate reunion
For years, billionaire producer Max Ford believed Raine Monroe had betrayed him. Now that he's back in his hometown, he wants answers. But his ex plans to keep her mouth shut and her heart far away from temptation...until a snowstorm strands them--with her baby--in her cozy farmhouse. Soon Raine is falling faster than the snow outside....
But she has to put a stop to it before a fling with Hollywood's hottest bachelor jeopardizes her chances of officially adopting her daughter--before saying goodbye again becomes impossible...before dark secrets from their past finally come to light....
Wonderful, emotional reunion story. Max has returned to his hometown to care for his mother after her breast cancer surgery. He knows he'll eventually run into Raine, the ex-girlfriend he believed had betrayed him. He didn't expect that to be on the first day in the middle of a snowstorm. Now that he has seen her again he wants answers about what had happened all those years ago. Meanwhile, Raine is stunned to discover that the feelings she once had for Max are just as strong now. She doesn't know why he never sent for her the way he promised all those years ago, but she can't risk getting involved with him now.
I loved Max. He may be a big name in Hollywood but he's not too important to come back home to care for his mother. He's also going to use this time to see Raine again and get to the bottom of what happened fifteen years ago. He had been deeply in love with her and they had made big plans to be together. When she ignored his calls and letters he had been devastated, but he's never forgotten her. I loved the way that he showed up at her house during the storm to make sure that she and her baby were okay. He didn't expect to get snowed in with her, but he had no trouble taking advantage of it. It was really fun to see the way he was rather out of his comfort zone at first. Baby Abby really scared him because he had no clue what to do with a baby, but he sucked it up and did whatever he could to help Raine. It was fun to see him cope with the dirty diapers and the crying, and see how quickly he fell for her. I also loved the scenes with the chickens and goats - he was such a good sport about it. What I loved the most was Max's persistence in getting Raine to tell him what had happened. I wasn't at all surprised by the revelation. Once they had that straightened out, things really heated up between them. Max realized he was falling for Raine all over again, but couldn't figure out how to fit their lives together. It really looked like he was going to walk away again before he figured out what was really important.
Raine has made a good life for herself since Max left. She never understood why he didn't follow through on his promises to send for her, but she has moved on. When he shows up back in town she is determined not to reopen the pain of the past, especially since she has a secret that she doesn't want to tell him. I really liked the way that she took control of her life, even though her parents are still trying to run things their way. She is completely confident in her choice of what makes her happy. I also loved the way that she is adopting her cousin's baby girl. She really wants to be a mother and baby Abby has brought a whole new dimension to her life. I enjoyed the realism of her life with the baby, from the lack of sleep to trying to work her life around the baby's schedule. She's not really happy when Max ends up getting snowed in with her, because she's not sure that she can resist him. When he starts to fit in to her life so easily she knows she's in trouble. She was devastated when she found out just what had kept them apart all those years ago, but it did open her up to letting Max back into her life. She was really worried about protecting her heart because she knew that he would have to go back to California and her life is in Lenox. She can't see any way of things working out for them.
One of the other things I really enjoyed about the book was seeing how Max's love gave Raine the courage to confront her parents about what they had done all those years ago. They were a real piece of work. I also loved seeing Max get in his own licks against them at the end - it was so satisfying!