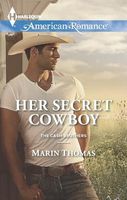 Series:
Cash Brothers
(Book 3)
The Cowboy And The Preacher's Daughter
Years ago, Will Cash wasn't interested in being a dad. So Marsha Bugler left town to raise her baby alone. But when her father's health begins to fail, she realizes she needs to return to Arizona--and introduce Will to his boy. Marsha is nervous to face Will not only because she lied, but because she's never stopped thinking about her cowboy crush.
Will is shocked to discover he has a son. And he can hardly believe the changes in Marsha. She's strong, sexy and a Ph.D. while Will's still a part-time cowboy living in a bunkhouse with his brothers. What does he have to offer her and his teenage son? Will has a lot to prove if he's going to get what he wants--the family he never knew he had.
This is my favorite Cash Brothers book so far - they just keep getting better. There is so much going on, most of it dealing with expectations met and unmet. Marsha had had a huge crush on Will when they were in high school. But as the preacher's daughter, going out with one of the wild Cash brothers was not possible, until she talked Will's brother into convincing him to take her to the prom. That night she put the moves on him and ended up getting pregnant. But Will wasn't ready to be a father so she left Stagecoach to go to college, not telling him that she planned to keep the baby. When she needs to return to Stagecoach because of her father's health, she knows she has to tell Will the truth. To say that he's shocked is putting it mildly. When he compares his life to hers he's not too sure that he has anything to give them, but he wants to try.
I felt so bad for Will. He had never forgotten Marsha and was stunned to get her letter telling him about Ryan and that they were going to be in Stagecoach for the summer. He is determined to get to know his son and try to be a father to him. He remembers the terrible feeling of being rejected by his own father and never wants his son to feel that way. His initial meeting with her just emphasizes their differences and he feels terribly inadequate. Meeting his son only makes it worse. Ryan is incredibly smart and is a bookworm. Will was diagnosed with dyslexia in third grade and barely graduated from high school. He has learned to adapt the way he does things but fears that Ryan will be ashamed of him. Meanwhile, Ryan thinks that Will doesn't like him because Ryan doesn't like rodeos and building things. Will also has to deal with Marsha's dad's disapproval of him making it even harder for him. I loved the way that Marsha stepped in and sent Ryan to spend a weekend with Will without his ereader, expecting that they would have to find a way to communicate. It was great to see them start to bond over a shared interest in the way things work. It was even more moving to see the way that Ryan deduced Will's reading problems and how much he wanted to help his father. Will also found that his feelings for Marsha were growing as they began to get reacquainted. The attraction was still there but he discovered that he wanted more than that. His problem was trying to get past the feeling that he wasn't good enough for her. Just when he thought that he might be making some progress she would pull back because of her father's attitude. This left him feeling worse than ever. I really liked the advice that Johnny gave him and that Will was willing to follow it. The ending was spectacular.
Marsha had been a good girl all through school, fully aware of what was expected of her as the preacher's daughter. Her one rebellion was the crush she had on Will. I loved the way she got Buck to set up their prom date and then went after what she wanted from him. It was just her luck that she ended up pregnant. She told Will, but wasn't really surprised by his reaction. She didn't tell her parents before she left for college, determined that she would keep the baby and prove to them that she could handle it all. She didn't tell them until after Ryan was born, and didn't tell them who the father was. Over the next fourteen years she didn't forget Will, but was very careful that he didn't find out about Ryan. When her dad got cancer she took Ryan and went back to Stagecoach, determined to finally tell Will about Ryan so they could get to know each other. She also had to confess to her parents about who Ryan's father was. I have to say that for a preacher who was supposed to be all about God's love, her dad was horribly judgmental, especially considering he didn't really know Will at all. It also bothered me that Marsha didn't do more standing up to him in defense of Will. She spent an awful lot of time putting her dad's feelings first. I did like the way that she was determined that Will and Ryan would spend time together. She was really frustrated by the way that Ryan behaved around Will. I loved the way that she forced him into it at first and then made it easy for them to spend time together once they had connected. Marsha also had her own feelings that she had to come to terms with. Now that she had done it, she felt very guilty for not telling Will sooner that she had kept Ryan. She also knew that she was falling for him all over again. She really wanted to be with Will, but she kept letting her father's attitude come between them. I ended up with more respect for her father when she had it out with him and he pointed out some things to her that she hadn't considered.
One of the best things about this series is how the importance of family is so clear. Whatever else happens, they are always there for each other. That makes the trouble between Will and Buck that much worse. I'm looking forward to the next book, hoping that they are able to make peace with each other.