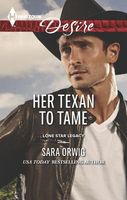 Series:
Lone Star Legacy
(Book 5)
Hiring a hot blonde to do the cooking? Probably not the smartest decision Texas rancher Ryan Delaney has ever made. But Jessica Upton is more than qualified...and currently the only candidate. Ryan just needs to keep a professional distance.
Except Jessica's vulnerability gets to him, and temptation proves irresistible. Even so, she claims their affair can't last. Jessica has her reasons for staying at the ranch--and reasons she'll soon have to leave. But she's about to discover to what lengths one determined Texan will go to lasso his heart's desire.
Jessica has come to Texas to escape some memories and get her life back together. She's just gone through a bitter divorce from a man who cheated on her but doesn't want to let her go. She also had a miscarriage which has left her feeling vulnerable. She likes to cook so she has applied to be the cook for Ryan. She lets him know up front that she will only stay a year, then she will go back to Tennessee and open a restaurant. Ryan isn't sure he wants a young and beautiful woman working for him because of the distraction she will cause. But she's the best qualified so he hires her. Neither of them is interested in a relationship, but the heat between them is undeniable.
I liked Ryan. He's not sure about hiring Jessica, but once he tastes her cooking he's convinced. He knows he's attracted to her, but he is determined to keep things professional between them. However, he finds that he can't resist trying to get to know her better. I loved seeing him draw her out of her shell and get her involved in life on the ranch and the nearby town. He understands her plans to go back home and open her restaurant. He also appreciates her devotion to her family back there, because family means so much to him too. Ryan has also been the ladies man of the family, enjoying the company of many women but having no plans to settle down any time soon. Suddenly he's thinking about Jessica all the time and wondering if she'd stay in Texas. He's still hesitant to call his feelings love, but he begins to admit that he's just not interested in anyone else. I really liked the way he listened to her and when she needed him to give her space, he did it. I also loved the way he started trying to find ways that they could be together, looking for compromises so they could both be happy.
I had a harder time with Jessica. I did like her determination to get away from her ex and her family who were all trying to get her to go home and reunite. She had confidence in her ability to do the job as cook for Ryan. She loved being on the ranch, where it was private and quiet, and gave her a chance to heal. She was also sure that her planned year would be enough time to be there, as she considers herself a city girl. She's not happy about her attraction to Ryan. She sees him as a threat to her peace of mind. She knows that she could fall in love with him, but with their different lifestyles there would be no way for them to be together. When their growing closeness becomes too much for her she asks him to leave her alone. My biggest problem with Jessica was her unswerving determination to go back to Tennessee in spite of her love for Ryan. She kept telling him that a relationship between them was impossible. It took Ryan going to her with his ideas to open her eyes to the possibility of compromise.