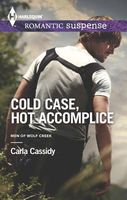 Series:
Men of Wolf Creek
(Book 1)
Roxy Marcoli cares about three things -- her restaurant, her sisters and her aunt Liz. When Liz disappears, she's forced to turn to shameless playboy cop Steve Kincaid. Every time the sexy detective turns on the charm, he gets Roxy's hackles up.
Despite his reputation, Steve is no ladies' man. His casual flirting hides the pain of an unbearable loss. As they search for clues, he discovers what lies beneath Roxy's prickly exterior and sharp tongue. As his desire grows, so does his fear. Because it's not just Aunt Liz the killer wants -- but Roxy, too.
I could not put this down until I had read straight through it. Roxy is the oldest of three sisters and feels responsible for making sure their lives run smoothly. She remembers what life with their mother was like before they went to live with Aunt Liz and she vows that she will never go through that again. Liz has been the anchor in her life since she was seven and the thought of something happening to her isn't something she can accept. Steve and his two fellow detectives have been coming to her restaurant regularly and when Liz can't be found she goes to them for help. Roxy tends to be pretty blunt and prickly and always in control of her life. Steve is always flirting with her and every other female around. She doesn't trust that he will actually put any effort into finding Liz, so she plans to be with him every step of the way. It doesn't take too long before she discovers that Steve is far more than she thought. As they look for clues in their search for Liz, she gets to know the man beneath the flirt and finds that they have more in common than she thought. When she is the victim of several attacks, it's Steve she turns to for protection. I have to say that I had a hard time warming up to Roxy at first. She is so darn judgmental about Steve without actually knowing him. I was glad to see her realize her mistake. Thanks to her issues from her mother, she is determined that she will never have a man as a permanent part of her life. Even that starts to change as being around Steve makes her realize that not all men are like those who were around her mother, and that she isn't anything like her mom. Getting close to Steve is a scary proposition for her and I was happy to see her take that leap of faith.
Steve uses lighthearted flirting to hide the heartbreaking pain he lives with every day. Two years earlier his ex-girlfriend had taken their son and disappeared. He hasn't given up hope of finding Tommy, but knows he also has to go on with his life. When Roxy's aunt disappears, he knows exactly what Roxy is going through so he does his best to help her cope as well as working to find Aunt Liz. He finds that he enjoys being with Roxy even as she frustrates him with her constant interference in the investigation. He has previously only gotten involved with women in a lighthearted manner because he doesn't think there would be room for love in his heart because of all the pain there. But he discovers that Roxy has managed to make a place for herself. When she becomes the victim of several attacks, he brings her to stay with him in order to protect her. This accelerates the effect she is having on him, but he has no idea if she can ever return his feelings. I loved the way that he was able to use his own experience to help her. I also enjoyed seeing Steve take care of her in a way that no one else ever has.
There are two mysteries going on in this book. The first, and main, story of the series is the disappearance of Aunt Liz. The search for clues has turned up nothing that has given them any idea of what has happened to her. Toward the end of the book we get to see her briefly as she tries to figure out what is happening to her. I have an idea of who is behind it, but I'll have to wait to see if I'm right because I'm sure we won't find out until book three. The other mystery is that of who is behind the attacks on Roxy and if they are connected to Liz's disappearance. I had a pretty good idea of who the guilty party was on that one. The end had a nice little plot twist that brought some extra happiness to Steve and Roxy.