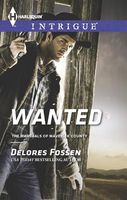 Series:
Marshals of Maverick County
(Book 6)
A woman he's never met is carrying his child
When U.S. marshal Wyatt McCabe tracks his target to a Texas ranch, he isn't the only one with Lyla Pearson in his sights. But Wyatt has a powerful reason for keeping the beautiful CSI director out of the line of fire--he may be the father of the child she's carrying.
The mother-to-be doesn't know who to fear more--the gunmen surrounding her house, or the stranger claiming paternity of her in vitro baby. Holed up together at his family homestead, Lyla struggles to fight her attraction to the sinfully handsome lawman. But with a killer stalking them, it may tear their new family apart....
Exciting conclusion to the
Marshals of Maverick County
(reviews) series. Lyla is pregnant with Wyatt's baby and doesn't know it's his until he shows up at her ranch. In order to force her to manipulate evidence in a murder investigation involving Wyatt's family, someone switched the embryos at a fertility clinic. Wyatt is determined to protect Lyla and his child as well as solve the mystery. The best way to do that is to marry her and take her to his family's ranch for protection. Wyatt is a widower who really has no desire to marry again since he can't forget his late wife. Finding out that Lyla is carrying the baby that he and his wife had made makes him determined to claim his child. To do that, he has to keep Lyla alive. I loved Wyatt's protectiveness toward Lyla and also for the rest of his family. He did what he thought was best to keep her safe but didn't expect the kick of attraction he felt for her. It made him feel a bit guilty, but he came to understand that maybe it was time to move on. Lyla had gone the in vitro route to have a baby because she doesn't want to wait for the right man. She's had two failed relationships and that's enough. Wyatt's claim to be the baby's father distresses her because she had been expecting to be a single parent. Finding that she's also in danger because of it just increases her stress. I liked the way that she went along with Wyatt's plans once she realized that she really was at risk. She really didn't want to be attracted to him because of the trouble she foresees regarding the baby, but she just can't resist him. Those feelings turn to love pretty quickly which causes her to have dreams of a future with him, but only if he returns her feelings.
The action in this book is nearly constant as the mystery of who killed the director of the orphanage where the boys grew up gets closer to being solved. All the boys want to be sure their foster father is not guilty but some of the evidence is not looking good. There are several suspects who are all accusing each other, plus whoever is trying to kill Wyatt and kidnap Lyla. There are several twists and turns as the whole family gets involved. Loved the ending with the mystery solved and a couple HEAs to go with it.