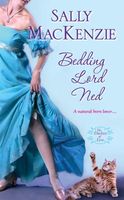 Series:
Duchess of Love
(Book 1)
Pleasure Is On Her Dance Card
Determined to find a husband, Miss Eleanor "Ellie" Bowman attends a ball put on by the Duchess of Greycliffe, fondly referred to as the Duchess of Love. But she roundly dismisses the suitors the matchmaking hostess has invited on her behalf. For it's the duchess's dashing son Ned, Lord Edward, who long ago captured Ellie's heart -- and roused her desire. All it takes is a pair of conveniently misplaced silky red bloomers to set the handsome widower's gaze on this unusual girl who is clearly more than meets the eye…
After more than a year of mourning, Ned longs to finally start anew. At first glance, the birthday ball his mother has thrown in his honor is decidedly lacking in suitable mistresses. But he senses something unexpectedly alluring beneath the veil of Ellie's plain exterior -- something she's anxious to reveal, and the lonely Lord is incapable of denying…
Fun book, involving a matchmaking Duchess, a thieving cat, an oblivious hero and a heroine who has all but given up. The Duchess gives a Valentine ball every year at the end of a week long house party. She always invites a variety of people who she thinks will match well with each other. This year she really wants her middle son, Ned, to move on with his life and find a new love. She has the perfect woman in mind, but he is oblivious.
Ned had been very much in love with Cicely. He feels responsible for her death since he had gotten her pregnant. Now he tries to control everything in his life, trying to minimize any kind of risks. He has finally gotten to the point where he is ready to look for a new wife, but he isn't looking for a great love. Finding Ellie in his room looking for her bloomers startles him. He suddenly sees her differently than his good friend. He can't stop picturing her wearing those bloomers and it's freaking him out. She is also acting differently than she usually does at these get togethers. He sees her being pursued by a couple gentlemen and he doesn't like it but can't figure out why. He gets over protective with her and is stunned when she tells him to back off. Ned makes a really stupid proposition to her and is really surprised when she not only turns him down but tosses a brandy in his face before storming out. He was so confused and even more so when his brothers confront him and explain what an idiot he is to him. He has to decide if he can face his fears and open himself up to love again or go through life without the love that he needs.
I really liked Ellie. She has been in love with Ned since she was a child. She wasn't really surprised when he married her best friend Cicely, a girl who was the perfect society bride. When Cicely died in childbirth Ellie was there for Ned as a friend, but still hopeful that he would eventually see her as a woman. After four years she has decided that it will never happen. If she wants to be a wife and mother she'll have to settle for someone else. She's looking at the single gentlemen at the house party but she's not impressed. She has noticed that Ned is actually looking at the other women this year and fears that once again he'll overlook her. She's trying to get up the courage to go after him herself. Aiding her in this effort is Reggie the family cat, who likes to steal things and hide them in Ned's room. Ellie accidentally brought along a pair of red silk bloomers that Reggie seems particularly attached to. She is horribly embarrassed when Ned finds her searching his room for those bloomers. The cat steals them several times, forcing Ned and Ellie into contact with each other. She finally admits to herself that she changed her ways to become more like what she thought Ned wanted and is tired of hiding her true self. I loved the way that she starts to stand up for herself and push back against Ned's attempts at control. It was fun to see her really go after him at the end and overcome all his objections.
I enjoyed the Duchess's attempts to get Ned to open his eyes. She uses the presence of the single men and their interest in Ellie as a way to show him what he's missing. Though it was pretty devious of her, I liked the way that she finagled Ellie into a much better ball gown and the effect it had on Ned. I also loved the example that she set for her family with the obvious love that she and the Duke still share. I also enjoyed seeing her manage all the various couples and lead them where she wants them to go.
There were some really funny parts, often involving the cat and his propensity to take things and hide them in Ned's room. There are a couple people there that have hidden agendas and their downfalls are also pretty amusing. Percy comes off as a real jerk, but with something the Duchess said there may be redemption in his future. I also enjoyed Jack's attempts to avoid the lady pursuing him and am really looking forward to reading his book soon.