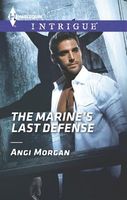 "To the rest of the world, Sabrina Watkins doesn't exist. But to this cop, she is very much alive
After escaping a killer, playing dead was the only way Sabrina Watkins could get out of Amarillo alive. Now she's living in Dallas, where no one knows her true identity. Until homicide cop Jake Craig shows up.
A half-frozen pup he finds at a crime scene brings Jake to Sabrina's doorstep. Suddenly, the former Marine is playing hero to a desperate woman on the run. Sworn to clear her name, Jake's already falling for the stunning brunette with the amethyst eyes. Can he keep her safe and turn a rescue mission into a last chance at love?
Good story with plenty of action. Sabrina returns to her place of business early one day only to hear her partner plotting to kill her and blame her for missing funds. As she escapes she grabs a briefcase that contains a couple million dollars. She runs to Dallas, where she lives off the grid, working as a pet and house sitter, until she gets caught in the middle of a murder. The murder victim's dog brings Jake to her as they discover that she was the intended victim. As he learns more of her story, Jake ends up on the run with her, as they try to clear her name and stop a killer.
I liked Sabrina. I completely understood her fears and why she ran rather than contact the police. She's spent six months trying to figure out what her partner had been up to and who the other man is. When she gets nabbed by Jake as a person of interest in the murder she knows she has to stay out of police hands until she finds out what is happening. Her activities get Jake in hot water with his boss when she gets away from him. Over the next two days, together they have to evade the men following her, cope with a blizzard, retrieve the missing money and rescue her family. Sabrina wants to trust him, but she's leery of trusting anyone right now. She finds his willingness to help her reassuring, and her attraction to him gets stronger. I found her tendency to ignore his orders frustrating because it always seemed to make things worse. I did like the ending.
Jake was recently promoted to detective ahead of some others because of his military experience. It has made his work more difficult because of their attitudes and actions toward him. When he stumbles onto the murder victim and her dog it leads him to Sabrina. He senses that she's hiding something, and when it becomes clear that she had been the intended victim he swears to help her. As they run ahead of the killer's men and toward recovery of the missing money, he finds himself needing to use his the training he had as a Marine. He came back from war with some memories he'd like to forget, and this problem of Sabrina's isn't helping him do that. Being around Sabrina is bringing a different kind of peace to his life, if he can just keep her alive.
The mystery itself wasn't too complicated, but it sure kept the action moving. I liked seeing the strength of will that Sabrina had that enabled her to escape and stay safe for as long as she did. I also enjoyed the way that she was smart enough to hide the bulk of the money and how that fact was the impetus for the story. The frequent danger kept me turning the pages until I could see how everything turned out.
I loved the character of the Labrador puppy, Dallas. Besides being what brought Jake and Sabrina together, she was also used to show the effects dogs can have on stress. I also liked the way she highlighted how it can be difficult for handicapped dogs to get adopted.
The only thing that kept this from being a five star book had nothing to do with the story itself. As frequently happens, the folks at Harlequin have a difficult time accepting that when you are writing about a member of the United States Marine Corps, Marine is always capitalized. As is Marine Corps, and when used alone to speak of the Marine Corps, as in "when he was in the Corps". It's something that pulls me out of the story when I see it, and as Jake had been a Marine, it happened a lot.