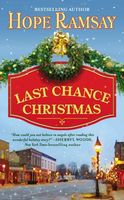 Series:
Last Chance
(Book 4)
Dear Reader,
I've been wishing for a miracle for my oldest boy, Stone, and this Christmas my prayers might just be answered!
Her name is Lark, and she's here in Last Chance, looking into her father's past-and stirring up a whole mess of trouble without meaning to. As the chief of police, Stone sure has his hands full trying to keep up with her. Ever since his wife died, Stone's put everything into raising his daughters and dodging the Christ Church Ladies' Auxiliary matchmakers. And it's clear Lark has been through some trouble and could use a place to finally call home. I only hope Stone can let go of the past soon enough to keep her . . . Goodness, I need to stop talking and finish up Jane's highlights so we can make the town tree-lighting. You come back by because the Cut 'n' Curl's got hot rollers, free coffee, fresh-baked Christmas cookies-and the best gossip in town.
See you real soon,
Ruby Rhodes
Very good book. Lark has come to Last Chance to scatter her father's ashes at the Golfing for God putt-putt course. She doesn't understand why, but it was his last request so that's what she'll do. When she arrives she discovers that there are some roadblocks to carrying out her plans. Her father was not the most popular guy to have visited the town and there are secrets that are about to be stirred up. She needs to get permission from multiple people to fulfill her father's wishes. And the local police chief isn't any too happy about the trouble she's stirring up. Stone is a widower who is having trouble moving on. His wife was his soulmate and he feels lost without her. He's raising his two daughters, teenage Lizzy and seven year old Haley. Haley has been talking about the "sorrowful angel" she has been seeing since the death of her mother. Having Lark show up in town is creating problems for him. Some people want him to run her out of town and others are glad she's there. Being around her is waking up feelings that make him feel guilty but also seem to be filling a hole in his life. Working together they uncover the secrets that have created problems for their families and bring them to the light of day. There's also a modern murder that ends up being tied to some of the same people.
Lark plans to spread her father's ashes and get back to her work as a war correspondent/photojournalist. Part of her troubles is that she is suffering from some PTSD because of her last job. A friend died as she was taking pictures and she hasn't been able to use her camera since then. Taking care of her father has given her a break, but she still hasn't recovered. Meeting Stone puts a crimp in her plans as he explains the problems. Her father is blamed for the death of his grandfather and there are a lot of people who don't want to help her. At first Stone is among them. Lark finds some that are willing to talk to her and help her take care of her father's ashes. She also finds herself increasingly attracted to Stone, even though there's no future in it. I loved the way that just being around Stone started to lessen her trauma. She also found that she could talk to him about anything, including those bad memories. He understood and didn't try to judge or advise, he just listened. I also loved her reaction to life in the small town, something she had never experienced before. It really didn't take long before she started to fit in to the whole community. I especially loved seeing her with Stone's daughters. She knew just what to say to Haley about Santa and her angel, and she was just as great with Lizzy. I loved the way her independence and experience saved Lizzy and David at the end. Her fears nearly kept her from going after what she wanted, until she admitted to herself that she wanted the love she had seen all around Last Chance.
Stone has been getting by for the last six years since the death of his wife. He has his family around to help and support him but he misses his wife. He is frustrated by his youngest daughter's constant talk of her angel. When Lark arrives in Last Chance he senses that she is bringing a whole bunch of trouble with her. He's heard about how her father was responsible for his grandfather's death for years. He knows his father will never agree to her spreading those ashes at the golf course, though it isn't entirely up to him. He tells her about how she will have to get permission from others too. He really hopes she'll just give up and leave. It doesn't take long before her presence starts making waves and people are telling him to run her out of town. He soon realizes that that's the last thing he wants. I loved seeing him get to know Lark and see the woman behind the tough facade. I also loved the way his feelings for her were growing but he was so unsure about what to do about it. He's the strong, silent type but also somewhat vulnerable. It was sweet seeing the way he kind of bumbled his way around asking her out and taking her places. I also loved the way he tried to protect them both from the gossips of the town, but ended up right in the middle of it anyway. I really enjoyed seeing him finally let go of his past and how Haley and her "angel" were part of it. I must admit that I had my suspicions about that angel from the beginning and was very happy to see that I was right. I enjoyed his conversation with the "matchmaker" who gives advice and how it also opened his eyes to the possibilities for his future.
Besides the terrific romance elements of the book, I really enjoyed the whole small town setting. All the characters are realistic and not cutesy at all. Lark's arrival brought out some of the less savory history of being a small Southern town in the sixties. Part of the mystery involving Lark's father was rooted in his actions with an African-American woman and the segregation that was still being practiced. There was a very interesting twist to that story at the end. Stone also had to deal with a murder that happened just outside town, getting the county sheriff involved. By the end of the book that mystery is solved in a surprising way. There was a sweet teen romance involving Lizzy and a classmate, a Jewish boy that is dealing with some bullying by a teenaged bigot. I really loved Lizzy's attitude, though she was certainly good at pushing her dad's buttons. Lizzy and David found themselves in the middle of some serious danger and it was David who came through for Lizzy. There was a lot of excitement at the golf course that day and a couple very interesting plot twists. I'm really looking forward to reading the next book.