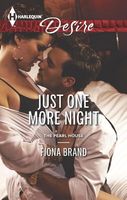 Series:
Pearl House
(Book 5)
She was supposed to be a one-night stand. Instead, she's the woman he can't forget. Now this brash billionaire will do anything for more...
Nick Messena has gone through his share of women in the past six years and still hasn't quelled his hunger for Elena Lyon. But on the night they made love, their families were plunged into a scandal that left Nick questioning everything. He thought he'd never have her again....
Now, a family secret has brought them back together...and Nick's sweet wallflower has bloomed into a breathtaking vixen. Nick wants Elena--for one more night and then some. But can he convince her she's the only woman for him?
Good book. It's been six years, but Nick still wants Elena. After leaving her the last time he's dated a lot of women, but never quite forgotten that night. Now he has another chance as he needs her help. Elena had been hurt when Nick never even called after that night. She's not inclined to give him the time of day now, but she wants the mystery solved also. She's going to do her best to resist him.
I mostly liked Elena. She is an intelligent woman who has made a place for herself as personal assistant to a powerful man. She has great confidence in herself on the job. She doesn't have the same confidence in her personal life. She considers herself to be somewhat overweight and not particularly attractive. After a contentious meeting with Nick where he made a couple unkind comments, she decided it was time for a change. I loved that she made that decision, I just wish it had been less motivated by him. I loved the confidence in herself the changes gave her. I enjoyed seeing the way that she was cool to him the weekend of the wedding, when he saw the new her for the first time. The coolness is just a front because she still wants him just as much as ever and convinces herself that they have a chance. For such an intelligent, talented woman she has a real blind spot when it comes to Nick. It opens her up to even more misery later on, when she realizes that he has a real fear of intimacy that will never allow him to commit to her.
Nick was pretty much a jerk throughout the book. He may have had smooth manners and charm, but his actions were pretty bad. It was his guilty feelings and family scandal that fueled his actions six years earlier, but he still should have at least talked to Elena. Now he just seems to use women for his pleasure, never even attempting a relationship, as he said to Elena "They end, just like they always do." For a guy who is supposed to be so good with women, I thought his remarks to Elena about her style were just plain mean. I liked his surprise at her transformation and the effect it had on him. His inability to forget her should have given him a clue that she actually means something to him. After their second night together he starts to realize that there's something different going on, but he doesn't cope with it well. He is frustrated by her refusal to talk to him later. When he finds out about the conference she's doing, he uses that as a way to see her again, but the way he does it is so wrong. How he didn't see that it could blow up in his face I don't know. He completely deserved to have her walk out on him the way she did. It did finally bring him to his senses and make him realize "the urge to protect himself had become so ingrained that he'd closed down even when he'd wanted to open up." I loved the ending and seeing him properly grovel. I would like to have seen at least part of what was in the note he wrote her.
I'm looking forward to more stories in The Pearl House series. I'm thinking that Kyle might be next, perhaps matched up with Eva. There certainly seemed to be some sparks between them.