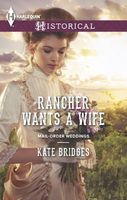 Series:
Mail-Order Weddings
(Book 1)
A marriage to save them both...
Among the responses Cassandra Hamilton receives to her advertizement as a mail-order bride, one stands out--Jack McColton's. The last time she saw him, she was a carefree girl, but tragedy has made her a cautious woman.
Jack is mesmerized by his new bride--Cassandra might bear the scars of recent events, but she's even more beautiful than he remembers. They both have pasts that are hard to forget, but under the cloak of night, can their passion banish the shadows forever?
Very good book. I loved the courage that Cassandra found to pursue a new life. She might have known Jack in the past, but it's been five years so there's no guarantee that he's still a good man. She lost her father and sister in the Chicago Great Fire, and was injured herself. Having lost so much, she is cautious about trusting her heart to someone else. When she finally reached California and saw Jack again, she discovered that she was still attracted to him. She wants to build a relationship with him but there are still some things from their past that they need to work through. She is also worried about how he will accept her scars. Cassandra was worried about their future when he didn't even kiss her at first, but was more confident once they were married and their physical relationship took off. She still had some confidence issues thanks in part to Jack's ex-girlfriend who appeared to still want him. I loved seeing her make herself an important part of Jack's life, not just in bed. She has to learn to trust him and seeing the work he does and the way he is respected by others goes a long way toward that. I also enjoyed Cassandra's desire to be more than a wife. Having been involved with her father's law firm, she has an interest in law and law enforcement and would like to become a lady detective. She doesn't know how Jack will react to that wish, and when he makes his dislike of the idea clear she hopes to change his mind. I loved the way she put her abilities to work as they tried to solve the mystery of sick animals and a possible murder.
Jack left Chicago after telling Cassandra about his feelings and being rejected. He couldn't stand the idea of seeing her marry the man she was engaged to, so he left and didn't look back. He's made a good life for himself in California. When he heard about the Great Fire, he tried to find Cassandra to check on her but had no success until he saw her ad in the paper. He immediately wrote to her, proposing marriage to him, all the time wondering why she wasn't married to the other man. He feels guilty that he wasn't there to protect her and vows that she will be safe with him. He notices her scar when they finally meet again, but it makes no difference to him. He realizes he still cares for her and vows to keep her safe. He's not happy about her plans because he sees too many opportunities for her to get hurt and he doesn't want that to happen. I loved seeing how attracted he was to her, and how he tried to control himself but couldn't. He's intrigued by the way her mind works but feels her plans are too dangerous. I enjoyed seeing him get closer to her and try to show her how he feels. His protectiveness really comes out as he worries about the unexplained events that are going on. His growing appreciation for her and her deductive abilities starts to work on his opinion of her plans. He also has a tendency to screw things up just as matters between them start going well. The final showdown at the end showed him just how much he had come to love her.
I enjoyed the mystery part of the book also. The way that Cassandra had of thinking outside of the way that Jack and the other men did went a long way toward figuring out who was behind the trouble. I thought it was pretty cool that she solved it before the guys did. I wasn't really surprised by who it was, but the process of getting there was very good. I'm looking forward to the next book in the series.