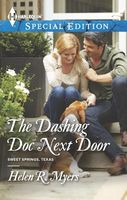 Series:
Sweet Springs Texas
(Book 1)
Can a matchmaking pup bring a city slicker and a small-town doctor together?
When city girl Brooke Bellamy rushes to Sweet Springs, Texas, to be by her ailing aunt's side, little does she know that she's headed straight into a whirlwind of her own. Managing Marsha's floral shop and keeping an eye on her aunt's mischievous basset hound, Humphrey, is hard enough. Luckily, Marsha's neighbor, veterinarian Gage Sullivan, is more than willing to give a helping hand with the stubborn pup...among other things
For years, Gage has heard about his neighbor's wonderful niece, and he's curious to see if the stories hold up. When Brooke proves to be everything Gage had imagined--and more--he's faced with his biggest challenge yet: to convince her that she belongs in Sweet Springs with him.
Fun book. No major conflicts, but a sweet story of love and dreams. Brooke spent part of her life in Sweet Springs, until her mother died and father moved them to Dallas. When her aunt needs her, Brooke drops everything to go help her. While her aunt is in the hospital Brooke is running the florist shop and trying to take care of Humphrey, a handful of a basset hound. Brooke finds herself getting plenty of help from next door neighbor Gage. Gage has heard a lot about Brooke and discovers that the reality is even better.
Brooke is dealing with her worry about her aunt, a dog that seems to have it in for her, and worry about her own future. She lost her job when he financial firm reorganized and hasn't found a new job yet. She never had a pet while growing up and Humphrey's antics have her at her wit's end. She's getting lots of help from Gage, the really nice and very good looking veterinarian who lives next door. He's made his interest in her obvious, but she expects to be going back to Dallas in a few weeks. I really loved her devotion to her aunt and how determined she was to make sure everything went well at the shop and with the dog. She's been so caught up in the rat race pushed on her by her father that she has had no real time for a personal life. Now she has Gage bending over backwards to do everything he can to make her life easier. She's reluctant to get involved at first because she doesn't plan to stay. But as the days go on she gets more involved in the business and enjoying the slower pace. It also gives her the chance to know Gage better. I loved seeing their relationship build slowly as they get to spend time together. I liked seeing Brooke really start to get involved in her aunt's business and put her own talents toward improving it. The more time she spent there, the more I could see the possibility in her future. Her feelings for Gage also grow, but she is more cautious there, afraid to risk her heart before knowing how he feels too. She also spent most of her life trying to measure up to what her father wanted and finds that her wishes and his don't match up. Being with Gage gives her the courage to go after her own dreams.
Gage is a very busy vet, but has never been too busy for his neighbor Martha. He's heard a lot of stories about Brooke, but is cautious about believing them. It doesn't take long for him to realize that Brooke is exactly who he's been looking for, if he can get her to stay. I really loved seeing his pursuit of her. He wasn't creepy or arrogant about it, he was just there for her. He also knew that he couldn't rush her, as much as he wanted to make sure she knew how he felt. It was terrific to see him give her the support she needed. I especially liked the way he was there for her when he father was being such a pain during one of his phone calls, and the support he gave her during Marsha's hospital stay. He's shown as the terrific, sensitive guy that he is. I absolutely loved the ending.
I loved the part that Humphrey the basset hound played in the book. He is totally adorable and his antics are what get Gage and Brooke together at first. As the author has stated that animals will be a large part of this series, I can't wait to see what comes next.
I'm really looking forward to more of this series. We've already met some of the really fun people of this small town. Aunt Martha looks like she can be a real hoot and I'm hoping there will be more of her in future books. The older gentlemen who hang out at Gage's clinic are lots of fun and seem to have an opinion on everything. I love small town books and this looks like it will be fun.