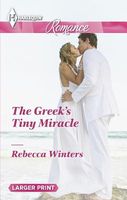 His only chance to be a father…
Navy SEAL captain Nikos Vassalos is a shell of the man he once was. Tortured by PTSD, he isolates himself on his luxury yacht. But his bitter solitude is interrupted -- by a heavily pregnant woman who tells him he's about to be a dad!
Putting her own deep-rooted fears of rejection aside, Stephanie Marsh is determined that her baby will know its father. Only this cold, suspicious Nikos is not the man she once fell for. Will the tiny miracle growing inside her help them find the happy ending they both deserve -- together?
Excellent book with plenty of intense emotion. Stephanie and Nikos had met each other while he was on leave. He didn't tell her his real name or what he did and when he was called away he didn't contact her again. Stephanie had felt that it was more than just a fling so when she discovered she was pregnant she decided to search for him so she could tell him. What she found was a very different man than the one she had gotten to know. Nikos is suspicious of her motives and not at all nice to her. She is devastated by his attitude, but hopeful that she can resurrect the man she fell in love with.
Stephanie had fallen hard for Nikos and when he disappeared she was worried about him. Finding out that she was pregnant motivated her to find him. She had never known her father and she refused to let her child grow up with the same kind of questions she had had. I loved the efforts she went to and how she refused to give up. When she found Nikos she couldn't believe his changed attitude toward their time together and was devastated by the accusations he made against her. His decision to marry her for the baby's sake went against her desire to marry for love but she was willing to do it for the baby. One of the things I liked best about her was the way that she was constantly putting herself in Nikos's place, thinking about his feelings and desires. While she wanted to do whatever she could to make things easier on him, I did like the way that she did stand up to him when it was important to her. I loved her refusal to give up on him.
Nikos had loved his time with Stephanie and planned to go back to her when his mission was over. Unfortunately, he was injured in an explosion and his best friend was killed. His injuries were so bad they thought he wouldn't walk again, but he overcame that. Now he is bitter over the loss of his career and the death of his friend. His father wants him to come back to the family business and marry the girl he has picked out. Nikos has never had a good relationship with his father and refuses to be controlled by him. He is still recovering from his injuries and dealing with terrible nightmares. When he hears that Stephanie has tracked him down he believes his father's opinion that she is after his money and had never really cared for him at all. He says terrible things to her, but refuses to let her leave. He's not convinced the baby is his, but just in case he wants to marry her so the baby will have his name. Over the next several months he comes to know her better. He really wants to believe that she is telling the truth. I loved his protectiveness and how he wanted to take care of her. He was really fighting his feelings because he remembered how much he cared but he's afraid to believe that she's telling the truth. In addition to his father's beliefs, Nikos remembers the misery that his best friend went through when a woman trapped him into marriage. It has made him cynical and mistrustful. I loved seeing the way that Stephanie's constant care for him started to break down his barriers.
I ached for Stephanie as she tried to balance her love for Nikos with his fears about her and her motives. All she wanted was his love for her and her child and he was fighting it so hard. Nikos really wanted to believe her but he also wanted to protect his heart. I really liked the portrayal of his problems and the efforts both he and Stephanie made to overcome them.
The only issues I had with the book weren't with the story itself but with the cover. The blurb wasn't entirely accurate. They had her last name wrong - it was Walsh, not Marsh. She wasn't heavily pregnant when she found him, she was barely showing. And if the cover is supposed to be a wedding shot, they missed on that too, as he wore his uniform, not a white suit. Those are small things, but they were an irritation.