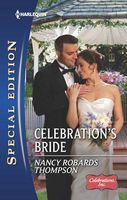 Series:
Celebrations Inc.
(Book 4)
Home at last
Sydney James knew she seemed like the consummate single girl, what with the enviable job in the public eye, and a reality TV show to boot. But the former foster child had never had a place to call home, or anyone to call family. Her strategy: leave before you can get left. So when she met irresistible filmmaker Miles Mercer, she thought, Maybe I don't have to resist altogether? A fling might be good for me….
True, Miles had come home to Celebration, Texas, to jump-start his career and then head right back to L.A. But he knew as soon as he met Sydney that his plan needed some serious reworking. His feelings for Sydney spelled out happily ever after! Now all he had to do was convince her that forever was within reach….
Very good book. Sydney has been in Texas for several years working with her friends' catering business and their new tv show. She's starting to feel like she needs to move on, that she's becoming too attached and that makes her nervous. Miles has come home to Celebration to fill in as director for the show and visit with his family before heading back to California. Meeting Sydney causes him to take a new look at what he wants out of life. Unfortunately she already has one foot out the door.
I really liked Sydney. She has been an important part of the Celebrations Inc. group from the beginning. I loved the way that she has put so much effort into making the company and the show a success. She has also always been a little bit apart from the others. Having been a foster child from the age of seven she has never experienced a loving family life. It seemed that whenever she would start to get settled she'd end up being moved again. Now she won't let herself get attached to anyone or any place. As soon as she starts to feel that way she moves on. In this book she has applied for a job in Europe that will take her away from her friends. When she meets Miles there is an instant connection. She makes it clear to him that she isn't relationship material, but finds herself getting closer to him than she is comfortable with. She sees him as the settling down kind and she has no intention of opening herself up to that kind of emotional risk. Though she won't admit it to herself she is somewhat envious of the happiness her friends have found, and of Miles's big and loving family. I loved the way that she and Miles were able to talk to each other about anything. It really showed just how special their connection was. By the end Sydney had to decide what was more important to her - the chance of this fantastic job or the chance of a future like she had never dreamed possible.
Miles was back in Celebration for two reasons. First to fill in as director on the tv show for a friend while he makes some decisions about his future. He is also going to spend some time with his family who he hasn't seen in five years, ever since a falling out with his father. His first sight of Sydney puts a lot of that right out of his mind. I really enjoyed his flirtatiousness even as he had great respect for the job that she was doing. I loved how well they worked together and that they often saw things the same way. He was also surprised at how well she fit in with his family, especially after she told him about her childhood and how she never intends to have children of her own. He sees qualities in her that she doesn't see in herself and doesn't believe when he tries to tell her. She also has a way of helping him deal with his own family issues, especially with his father. In spite of knowing that she plans to leave, Miles falls hard for her. He really wants to find a way to make a relationship between them work. I loved the ending and the solution he came up with.
I thoroughly enjoyed the setting of the book with the background of the tv show. It really showed the relationships of the characters very well and how each has their own strengths. Sydney worried about hurting her friends with her plans to leave, but found that they supported her in whatever she decided to do. I loved seeing how Miles and Sydney's connection also made their work life so much better. There were several situations with their producer that required everything they had to keep from turning into disasters.