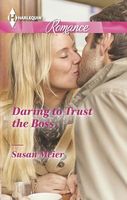 When accountant Olivia Prentiss joins Tucker Engle's company, she's unceremoniously demoted--to stand in as his PA However, Tucker's not in for an easy ride. Olivia's worked hard to get where she is now, and refuses to bow to her gorgeous boss's commands--however fearsome his reputation.
But soon Olivia begins to see there is far more to her boss than meets the eye. And on a business trip to Italy, she sees straight through Tucker's hard and proud exterior to a man with a far more vulnerable edge....
Good book with some wonderful characters. Olivia has come to New York to accept an accounting job at Tucker's company. Unfortunately, Tucker's PA was in an accident and he needs a temporary replacement, and Olivia is it. She's not happy about it, as that's not what she's worked for, but she has no choice. She knows his reputation, but she won't allow herself to be browbeaten and stands up for herself when she needs to. As she becomes more involved in the work she begins to see a different side to him. On a business trip to Italy she gets to know him better and comes to like what she sees.
I really liked Olivia. She had grown up in a small town, and gotten involved with one of the sons of a wealthy family while in college. When he attacked her she had the courage to stand up for herself and try to hold him accountable. She stood her ground when he fought back and came out on top. But she needed to get away and start a new life. She now has trust issues with men, especially wealthy ones. She may have to work for Tucker, but that doesn't mean she's going to let him walk all over her. I loved her common sense way of looking at things and her ability to read people. Those abilities get her involved even more with Tucker's plans and a trip to Italy ensues. As she spends more time with Tucker outside of the office, she begins to see more of the man behind the ruthless businessman and grows to care for him very much. I loved seeing her influence on him and the way he does things. I ached for them both during Olivia's family emergency, when each of them had to decide if they could trust enough to open their hearts.
Tucker had grown up in foster care, moving through many different families. He had never experienced the kind of love and life of being a part of a real family. He was determined from a young age that he would be successful and has never lost sight of his goals. Olivia is something he doesn't quite know how to deal with. She is very good at her job, but he doesn't understand why he can't get her off his mind. I loved his confusion when her family came to visit and he saw what their relationship was like. When he went to her apartment after she didn't show up for work because she was sick, he tried to take care of her. He felt useless because he had no idea what to do for her, but he tried. He found himself opening up to her while they were in Italy, which scared him. He doesn't want to get close to her because in his experience, everyone ends up leaving him. He really likes her but he fears one or both of them are going to get hurt. When she had a family emergency he was there for her, but then his insecurities got to him and he left. I loved the advice he got from Constanzo and what he decided to do about it. I loved the epilogue and how it showed the changes in both of them.