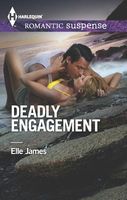 Series:
Devil's Shroud
(Book 2)
But secret operative Creed Thomas isn't prepared for Emma Jenkins. Creed needs the diving expert to locate a sunken boat off Oregon's rocky coast and lure out an elusive terrorist. But he doesn't need the fiery attraction that tempts the by-the-book agent to break every rule. Emma is everything the man in him wants and the agent in him can't have.
As an impenetrable fog blankets the seaside town, one thing is clear: Creed is all that stands between a terrorist and the unspeakable act of violence he's sure to commit. When the moment comes, will Creed be forced to choose between saving his country...and the woman he loves?
Very good book with enough action to keep me hooked and enough heat between the hero and heroine to have me rooting for them. Creed has come to town to locate a sunken yacht with ties to a terrorist. He needs a diving expert to help him find it and Emma is the best in the area. He doesn't expect the attraction her feels for her and finds himself thinking of a future that's impossible given what he does. And when Emma gets caught in the middle, can he save her and stop the terrorist?
Emma is a nurse at the local hospital and well liked by everyone. She feels very guilty right now because her ex-fiance stole the money that was meant for a children's wing at the local hospital. She has been using her diving skills to look for the wreck of an eighteenth century ship that went down off the coast and was rumored to be carrying Spanish gold. If she can find that gold it will replace the missing funds. When Creed comes looking for a diving guide she accepts because the area he's looking in is also where she needs to be. There's something about him, though, that isn't ringing true. He claims to be an insurance adjuster looking into possible fraud, but he isn't like any adjuster she's ever met. She's proved right when they are attacked and Creed comes clean on what's really going on. I really liked the way that she doesn't panic when they are attacked but is able to keep her head enough to get them to safety. She also admits to herself that not only is she attracted to him, but she's also falling in love with him. Knowing what he does she also knows that when his mission is done he will leave, taking her heart with him.
Creed has been a loner for most of his adult life. He had grown up in a rough neighborhood and gotten into a lot of trouble before joining the navy and becoming a SEAL. After the navy he joined the covert group he is currently in, with his teammates becoming like his family. He doesn't want to involve a civilian in his mission but he needs Emma's help. From the very beginning he is attracted to her, but doesn't feel that he has anything to offer her. I loved seeing the way that she started breaking down his walls and thoughts of what could be crept into his mind. He still resisted the idea that he could have it all until it came to the point where he realized what it would be like if he lost her. I loved the way it was his tough as nails teammates who pointed out where he was going wrong.
The suspense in the book was fantastic. From the search for the missing cargo on the boat to the final showdown I couldn't put the book down. The whole "dirty bomb" scenario was definitely scary. With Creed and Emma on their own at the beginning it was nerve wracking to see them struggle to escape those who wanted them dead. The arrival of his teammates increased the tension as they got closer to stopping the terrorist. There was a very interesting twist at the end when it came to the attempted deal between the two bad guys. I also enjoyed catching up with Gabe and Kayla from
Deadly Reckoning
.