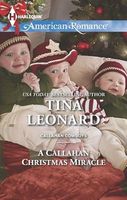 Series:
Callahan Cowboys
(Book 13)
TO LOVE, HONOR…AND MULTIPLY!
Becoming a husband and family man in the middle of a raging land feud wasn't the destiny Galen Callahan saw for himself. But once he laid eyes on Rose Carstairs, he knew the bouncy blonde with the warrior heart was his future. Now, with Rancho Diablo under siege, the eldest Callahan sibling will do whatever it takes to protect his new wife and triplets.
Except Rose refuses to be protected! No husband of hers can stop her from fighting by his side while keeping their newborn sons out of the line of fire. With Callahan lives and legacy on the line, Galen has a new mission: to vanquish a dangerous enemy and bring his family together in time for Christmas!
Very good book. Galen is the oldest of the family and the one that took over care of the family when their parents left for witness protection. He still feels responsible and doesn't plan on a family of his own until the problems with Uncle Wolf are done. He doesn't count on the effect that Rose has on him from the moment they meet. He is determined to make her his, and once he does he intends to keep her safe. But Rose isn't the type to sit back and do nothing, which drives Galen nuts.
I really liked both Rose and Galen. Galen hadn't really paid much attention to Rose until she became one of the nannies to the Callahan children. Once he did, he couldn't get her off his mind. He was very attracted to her physically, but he also liked her spirit. Having her help investigate a cave put her in danger that he regretted getting her involved in, but helped him realize that he wanted her in his future. I loved the way that he decided that he would not be like his brothers when they married. They all seemed to fall for women that got pregnant and then ran them ragged before finally getting married. He was going to make sure that he married Rose first, before she got pregnant, and that would keep things simpler. He was thrilled when she got pregnant right away and when it turned out to be triplets. He was frustrated by the fact that she wasn't very cooperative of his efforts to protect her. He didn't understand when those efforts seemed to drive a distance between them. It took quite awhile for him to realize that Rose needed to be included in their fight to save the ranch. Once he did, many other things became clearer to him. I loved the way it was one of his brothers who pointed out to him just how capable Rose was of being a part of the whole thing, not just wrapped up and put in a safe place. He finally understood that he was making his decisions out of fear for his family instead of doing what was right for the situation.
Rose has had it bad for Galen for a long time, but it took a long time for him to actually notice her. Once he did, she couldn't believe how intense he got around her. She really liked being involved in the investigation of the cave. Unfortunately, once he proposed and they got married, he suddenly started treating her differently, trying to keep her away from danger. While she was pregnant she agreed to stay with her father, away from the ranch, but she was very unhappy because she rarely got to see Galen. Once the babies came she became even more determined to get her family back together. I really loved seeing Rose keep insisting to Galen that she would not be hidden away and separated from him for who knows how long. I loved her part in Galen's rescue and how it served to emphasize to him that she is capable of taking care of herself. I loved seeing her get her Christmas wish.
The ongoing fight against their Uncle Wolf and his attempts to get the ranch continues. Things are getting more dangerous as they discover that there is a network of tunnels under the land that are being used by the cartel. Galen is captured and rescued and Rose manages to incur real hatred from Wolf to herself. There are two books left in the series and I am really looking forward to seeing how the Callahans save the day.