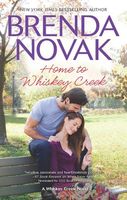 Series:
Whiskey Creek
(Book 4)
Sometimes home is the refuge you need -- and sometimes it isn't
Adelaide Davies, who's been living in Sacramento, returns to Whiskey Creek, the place she once called home. She's there to take care of her aging grandmother and to help with Gran's restaurant, Just Like Mom's. But Adelaide isn't happy to be back. There are too many people here she'd rather avoid, people who were involved in that terrible June night fifteen years ago.
Ever since the graduation party that changed her life, she's wanted to go to the police and make sure the boys responsible -- men now -- are punished. But she can't, not without revealing an even darker secret. So it's better to pretend….
Noah Rackham, popular, attractive, successful, is shocked when Adelaide won't have anything to do with him. He has no idea that his very presence reminds her of something she'd rather forget. He only knows that he's finally met a woman he could love.
This is a wonderful romance that deals with some really tough issues. When she was a sophomore in high school Addy attended a graduation party that ended horrifically for her. Addy left Whiskey Creek after graduation, never intending to come back. But her grandmother needs her help, so here she is, wanting nothing so much as to avoid the boys who raped her. Two days after arriving in town she is kidnapped and dumped into the very mine where the attack occurred. She's rescued by Noah, her high school crush, and brother to one of her attackers. Noah would like to get to know her better, but she wants nothing to do with him.
I really liked Addy. She had the courage to come back to Whiskey Creek to help her grandmother in spite of the horrible memories. She admits to herself that she would have loved to have gone to the police at the time, but because she feels responsible for the death of one of the boys she let it go. Being kidnapped and having her life and that of her grandmother threatened just reinforces that decision. She doesn't expect to be rescued by Noah, her high school crush and brother to the dead attacker. The last thing she wants is to get involved with him, but she discovers that her crush is still alive and kicking. She tries very hard to keep him at a distance, but he isn't cooperating. She feels that getting close to him is impossible with her secrets between them. And she can't tell him the truth without destroying his memories of his twin and tearing his family apart. I really wasn't sure how their relationship was going to work out. Addy was so conflicted because she really came to love Noah. She started out not expecting anything from him because of his reputation as a player, that he'd give up on her quickly. His kindness and care for her starts to break down her barriers, but she still can't tell him the truth. She feels she has to deny the love she feels for him in order to protect him and others. When the truth finally comes out I loved the courage she showed in facing everyone with what really happened.
Noah is a man with a reputation as a womanizer. He certainly has enjoyed the ladies, but lately he's started to feel like there should be more to his life. Seeing some of his friends find love and settle down makes him wonder if there could be someone out there for him. When he rescues Addy he discovers that there is something about her that really draws him. He has vague memories of her from high school, and he would really like to get to know her better. He is surprised when she doesn't want anything to do with him and wonders if he unknowingly hurt her all those years ago. He isn't going to give up on her though, and keeps trying. I really did like his perseverance. He's never been able to commit to anyone before and he finally realizes that it was because he'd never found someone who reached his heart. I also liked the way that he listened to his feeling that there was more going on with her abduction than she was admitting to anyone and was determined to protect her. When the truth came out he was stunned by what he learned and had to decide just who he was going to believe.
There was also a continuation of the story involving Noah's best friend Baxter. This too was dealt with in a very realistic manner. This is something that has been building for awhile and when it all came to a head both of them were left reeling. I really liked the way that Noah stood up for his friend. I look forward to seeing more of Baxter in the future.
I have to say that once again Police Chief Stacy has really pissed me off. His narrow focus on one person as a suspect in Addy's kidnapping was so wrong, especially with Addy's insistence that he had the wrong man. His actions later in the book are even worse. I really hope that one of these days soon he gets what is coming to him. I loved the way it was Dylan Amos, one of the people the chief hates the most, who finds a crucial piece of evidence.