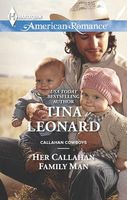 Series:
Callahan Cowboys
(Book 14)
A Callahan And A Cash -- Forever?
Sawyer Cash pregnant? With twins? The fiery-haired bodyguard who had secretly shared Jace Callahan's bed just rocked his world. The only solution is a quickie Vegas wedding. Then it's back to Rancho Diablo, where Jace can keep an eagle eye on his bride and babies-to-be while waging war against the Callahan nemesis hell-bent on stealing his land.
Jace knows Sawyer thinks she's only brought him trouble. She wanted to catch a Callahan and now she and their baby boy and girl are right in the line of fire. But doesn't Sawyer know she's the only woman for him, even if her family might be in the enemy camp? With things reaching a boiling point, Jace vows to fight for his family's future as only a Callahan can!
Jace and Sawyer had carried on a secret affair for a long time as she worked as a bodyguard on the ranch. Then Sawyer quit her job and disappeared, leaving Jace wondering what had happened. A few months later she bought him at the bachelor auction and stunned him with the news that she's pregnant with his twins. Nothing is more important to him than getting his ring on her finger and his name on his children, then getting them home where he can protect them. But there are things that she's done that have caused her no end of guilty feelings and she doesn't think there's any way for them to have a happy ending.
I loved Jace. He really cared for Sawyer and was unhappy when she disappeared. When she showed up again, having bought a date with him at the auction, he was thrilled. I loved his reaction to her pregnancy and how happy he was to become a father. Being a Callahan, he also wants to make sure that those babies have his name. It was fun seeing him just roll right over all Sawyer's objections with his lighthearted banter, but also get shut down in some ways by her own methods. The trip to Vegas and the wedding itself were fun. Jace isn't so happy when he discovers that Sawyer had also been providing some information to her uncle, with whom the Callahans had been feuding for awhile. It causes him to have some doubts about trusting her, but his love overcomes those pretty quickly. From there he just needs to convince Sawyer that they belong together.
Sawyer has been in love with Jace from the beginning, but with her family and his on opposite sides of the conflict she doesn't see any hope of a happy future for them. She's content with their affair until she decides that what she really wants is his love and that she can't have it. It isn't until after she's left that she discovers she's pregnant. She knows she has to tell him, but she doesn't want him to marry her out of obligation. She tries really hard to convince him that she can take care of herself and the babies, but doesn't succeed. She is also carrying a boatload of guilt. She had originally taken the job as bodyguard as a way to watch the Callahan family for her uncle. She soon cared more for them than doing the spying, but then got tricked into another round of spying that was far worse. She feels that she brings worse trouble to the ranch and rather than distract Jace from his job of guarding the ranch she would be better living apart from him. Once the babies arrive Sawyer makes it her mission to show the Callahans that her loyalty lies with them and not the Cash side.
There are a couple interesting twists to the ongoing battle with Wolf. I loved Sawyer's self reliance, even when stuck on bedrest for the latter part of her pregnancy. That really came into play when Wolf came bursting into her house being his obnoxious self. Zapping him with her pink tazer really made him mad and put both her and Jace into his crosshairs. There's a face to face confrontation between Wolf and Jace that also doesn't go Wolf's way. We also get more insight into just how off Wolf is from the way he was raised. The Callahans are really feeling the heat from Wolf and the cartel and wondering if there's any way they can win. I loved Sawyer's final show of loyalty and what she uncovered. I can't wait for Ash's story.