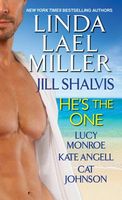 BATTERIES NOT REQUIRED by Linda Lael Miller
Series: Parable MT (Book .5)
Contrary to popular opinion, Gayle Hayes's love life is out of service. But when she returns to her small Montana hometown, rodeo bad boy Tristan McCullough gives her a whole new lesson in power surge.
. .
Good story, though very short. Gayle had left Parable right after high school, leaving sweetheart Tristan behind. She didn't think he'd care, since she saw him with his arms around someone else. When she comes back to town to help her mom sell her bar, she runs in to him right away. The chemistry between them is even stronger. I liked seeing them actually talk about what drove them apart although that seemed to be about the only talking they did. I would have liked it to be a little longer so that there was more to the story.
CAPTIVATED by Jill Shalvis
James Scott warned his investigator ex-wife Ella to be more careful. Now he finds the irate woman nearly naked and handcuffed to the towel rack in his Mexican vacation condo. He should release her. Then again.
. .
Pretty good story. Ella is an insurance investigator who has really bad luck. She is constantly getting caught by the bad guys and locked in trunks, tied up, etc. This time she's been caught snooping and handcuffed to a towel bar to keep her out of the way until the bad guys can get away. She's discovered by her ex, who had come to their cottage to get away for awhile. James (a cop) still loves her, but his fears for her safety made it impossible for him to live with her. All he wants is for her to give up the dangerous investigations. I completely understood Ella's problem with James. As she told him "I loved you James. Every part of you, but what kills me is that you can't say the same." She accepts that being a cop is who he is and doesn't try to make him change, but he was constantly after her to change. The question is, can they find a compromise before Ella gets into more trouble?
SEDUCING TABBY by Lucy Monroe
Everybody always wants Tabby Payton's beautiful sister. But not sexy English spy Calder Maxwell. He wants Tabby, body and soul, and he's willing to take seduction to new levels to prove it. . .
Loved this story. Tabby is used to people wanting her beautiful sister. Men will make up to her as a way to learn about Helene. She doesn't mind - she loves her sister and wants her to be happy. But when Calder makes it clear he is interested in her, Tabby doesn't know what to do. Having a sexy Brit courting her is a dream come true. I adored Calder. I loved the way that he saw what a wonderful and sexy woman she was. It was so much fun seeing him do so many things to make her happy. I loved seeing the care he took to make sure that she was certain about wanting him.
NO SHIRT, NO SHOES, NO SERVICE by Kate Angell
Series: Barefoot William (Book 2.5)
Violet Cates is done with surfing beach bums. She's ready for a new wave, someone with more ambition than a grain of sand. Like Brad Davis. He looks like a beach bum, but looks can be so deceiving. . .
Very good story. Violet and Brad had been together for six years when he left town to try to make a better life. Five years later he has returned, apparently not much different. The love between Violet and him is still there and as strong as ever. Vi is just happy that he's back. Together they work at the diner where they worked as teens and get to know each other again. I loved seeing the way they shared their dreams. I also enjoyed seeing Vi take care of Brad, even though he tried to tell her that she didn't need to. I really enjoyed the ending and seeing how they make their dreams come true.
FISH OUT OF WATER by Cat Johnson
Series: Oklahoma Nights (Book 2.5)
Carla Henricks is a cowgirl through and through, but her lasso has never met an English professor like Mark Ross. It's true opposites attract. Staying together is the juicy part. .
Good story. Carla has been burned in love by cowboys once too often. She's ready to try something different. Mark is on a university staff retreat camping trip when he meets Carla. I loved the way he was so unenthusiastic about the camping and fishing until he met Carla. Having her show him the ropes is the best part of the weekend. I really enjoyed seeing how much fun he had catching his first fish, and then doing the cooking. The attraction the two felt to each other was strong, but I also enjoyed seeing them just get to know each other.