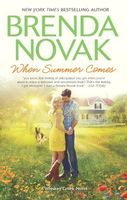 Series:
Whiskey Creek
(Book 3)
One day, Callie Vanetta receives devastating news…
She needs a liver transplant. But her doctors warn that, in her case, the chances of finding a compatible donor aren't good.
Determined to spend whatever time she has left on her own terms, she keeps the diagnosis to herself and moves out to her late grandparents' farm. She's always wanted to live there. But the farm hasn't been worked in years and she begins to fear she can't manage it, that she'll have to return to town.
One night, a stranger comes knocking at her door…
He's an attractive and mysterious drifter by the name of Levi McCloud, and he offers to trade work for a few nights' shelter. Callie figures she doesn't have anything to lose. He needs a place to stay until he can fix his motorcycle; she needs an extra pair of hands. The arrangement seems ideal until what was supposed to be temporary starts to look more and more permanent. Then she realizes she does have something to lose -- her heart. And, although he doesn't yet know it, Levi stands to lose even more.
An emotional book that is also very satisfying. Both Callie and Levi are characters that seem very real. Callie is coping with the diagnosis of liver disease and the fact that unless she gets a transplant she will likely die by the end of the summer. She doesn't tell her family or her friends about any of this because she doesn't want to deal with the emotional fallout. Having turned most of her photography business over to her assistant she moves to her grandparents' farm where she is supposedly getting it ready to sell. One night she's awakened by someone pounding on her door. Levi has been drifting since his return from Afghanistan and was attacked by a couple dogs near Callie's house. She takes him in and offers him a place to stay in exchange for his help. She doesn't expect him to be there for long, but is determined to enjoy his company while he's there.
I really understood Callie's decision not to tell anyone about her illness. She knew that people would treat her differently and she didn't want that. But in her efforts to keep her secret she also pushed away the very people who could provide her with the emotional support she needs. She's wary of Levi when she first meets him but soon recognizes a fellow wounded soul. Levi's attentions to her make her feel normal, but he's determined to keep his distance. She doesn't really pester him for details but she's there to listen when he wants to talk. She's pretty much resigned herself to her fate, but as she and Levi get closer she'd love to have a chance at a future with him. She still refuses to tell him about her secret because she expects he'll be leaving soon. She wants him to have good memories of her and not feel like he has to stay until the end. I liked the realistic portrayal of the challenges she is facing with her disease, but also that she was able to laugh and love. There were some wonderfully tender moments between her and Levi that made me ache for what might not happen. I loved the fact that despite her own troubles Callie is always interested in her friends' lives and wants to help them with their problems.
Levi has plenty of demons of his own. Trained as a fighter by his father, he escaped that life by joining the army. During his last deployment he fell in love with an Afghani woman who was killed by her family when they discovered she was pregnant with his child. Levi is consumed by his guilt over her death. He has been traveling around the country doing odd jobs to survive. He is also using an assumed name because he got into trouble with a couple cops and is trying to avoid arrest. When he's attacked by a couple dogs near Callie's home he ends up there looking for help. Despite how scary he can be, Levi is at heart a kind and honorable man. He accepts Callie's offer of help because he sees that she needs him too. He's also attracted to her, but his guilty feelings won't let him pursue the attraction. It becomes a real battle for him and one that he soon loses. His growing closeness to her starts to heal his heart but he also senses that there is something very wrong that she is hiding. When he discovers what it is he is devastated and runs, but soon has to decide whether to pursue what he really wants. He also has to face his past before he can look at a future.
I love the small town feeling and the closeness among Callie and her friends. It's not a perfect relationship among them as there are various issues between characters that are very realistic. I liked the fact that they noticed something was up with Callie, but I have to say that there were some things that bugged me. Once again the group of friends gets rather judgmental. Some of them make comments about Levi without ever having met him. I also got irritated with Eve's determination to bust in on Callie and demand to know what's going on. I kind of hope that when it comes time for her book she gets a taste of her own medicine. I did like the support they gave Callie once they knew the truth of what was going on. Another character that irritated me was the police chief. I really didn't like his attitude toward Levi and thought that he was going too far in threatening him.
I'm looking forward to reading the rest of the Whiskey Creek books.