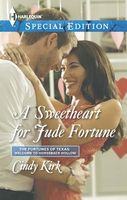 Series:
Fortunes of Texas: Welcome to Horseback Hollow
(Book 2)
It's love at first sight for one sexy cowboy--but has this Fortune met the only woman who just might slip through his grasp?
As Valentine's Day approaches, playboy rancher Jude Fortune Jones is convinced he has met the Woman He Is Going to Marry. (Again, his brothers tease.) But it is no joke to Jude. When petite brunette beauty Gabriella Mendoza arrives in Horseback Hollow, Jude knows he will never be the same.
Keep things light, Gabi tells herself. She is in no position to think about settling down, particularly with the hopeless-romantic cowboy. As a heart-transplant recipient, she has plenty of reasons to avoid getting too intimate with Jude--plenty of reasons to feel less than worthy of his love. How can she trust that the flirtatious Fortune is playing for keeps?
Good book. Gabi has come from Miami to look after her father after he was in an accident. She doesn't expect to meet someone like Jude. He's so sweet and sexy, but she's not looking for anything permanent. Meanwhile, Jude has finally found someone worth giving up his playboy reputation for, but she seems to be resisting.
I liked Gabi most of the time. She has a great relationship with her father, even though she sometimes gets frustrated by his overprotective attitude. She has a terrific sense of humor. The first time she met Jude she was very attracted to him. But as a heart-transplant recipient doesn't want to let Jude get too close. She knows there's a chance that something could go wrong and she doesn't want to put him through that kind of pain. She also feels that she can't give him everything he deserves in a wife. So she tells him they can be friends for as long as she's in town, but that's all. She is surprised by how quickly he comes to mean more to her than friends, but that love is what keeps her pushing him away. I got really frustrated with the way that she didn't tell him everything about her health, and didn't give him the chance to decide for himself if he wanted to take that chance. I did like the way that she took to life in Horseback Hollow. Her enjoyment of the small town life made her long to move there permanently, but her fears sent her running.
Jude was a sweetheart. He's been playing the field for a long time, but did his best to make sure he didn't break anyone's heart. When he met Gabi, he knew she was the one for him. He doesn't understand her resistance to him, but he's willing to take things slow. I really loved his persistence. Slowly but surely he showed her how he felt. There were so many really sweet and romantic things that he did with and for her. I loved the way that he was completely accepting of her scar, showing her that it was not the turn-off that she thought it was. Even when she finally came clean about her heart, he tried to convince her that his love was true. I felt so terrible for him when she pushed him away, and so proud of him when he refused to stay away. I'm looking forward to later books and seeing how things go for them.