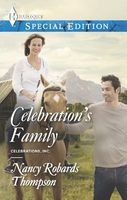 Series:
Celebrations Inc.
(Book 5)
Bachelor dad for sale?
Liam Thayer would do anything for his twin daughters and for his beloved Celebration, Texas, hospital. But a bachelor auction for the new children's wing was out of the question for the dignified doctor. He didn't intend to date till his girls were in college, and besides, he'd already lost the love of his life. Why try again? Until he finally caved, no thanks to a pushy event planner.
Rigging the auction to win his date was a piece of cake for organizer Kate MacIntyre. Resisting the handsome doctor? A problem she hadn't expected. And as their fake romance slowly turned to real love, no dollar amount could keep Kate from wishing for a happily-ever-after with Liam and his children....
The best books have laughter and tears and this one had both. I really liked both Liam and Kate. As head of the MacIntyre Family Foundation Kate has been tasked with heading the fundraising push for the pediatric surgical wing. With seven eligible doctors a bachelor auction seems like the perfect solution - until one of those doctors balks at the idea. Liam is a widower who is wrapped up in his family. Dating isn't on his radar for several years, if ever. He really hates the idea of the auction, but is given no choice by his boss. Then Kate comes up with a solution they can both live with.
Kate has pretty much written off any kind of relationship for herself. She had been engaged years earlier but broke it off when she realized she didn't love him the way he loved her. Her parents had had that kind of marriage and she never wanted to experience that kind of unhappiness. She had also had a miscarriage that reinforced her feelings of loss, so now she concentrates on her job and her brother's family (Rob and Pepper from
Texas Christmas
). She understands Liam's desire to avoid the auction and comes up with the idea of bidding herself, letting him off the hook for the followup date. She doesn't expect the attraction she feels for him, or the feeling that it might be returned. Actually going on that date makes her see that she's ready to risk her heart again, but Liam doesn't seem to be fully there. I loved her sensitivity to Liam's dilemma and the way she came up with the plan to help him. She knew she was playing with fire because of her attraction to him. I loved their date and her actions afterward show what a good heart she has. I loved her scene with one of his daughters and what she told him afterward. It was heartbreaking to see her give up on what they might have because she can't see him being able to move on.
Liam has no interest in dating. After one really bad experience right after his wife's death, he's decided that he'd already found and lost the love of his life and it's unlikely he'd be so lucky again. He doesn't want to put his girls through what happened before, so he won't date again until they're in college. I enjoyed the obvious love he has for them, though he is pretty clueless about one very important thing about them. He hates the idea of the bachelor auction and really resists it. He's getting a lot of pressure from his boss when Kate contacts him with an idea that could work for both of them. I loved the way that he went along with it, not just because it would save him from a date with a strange woman, but also because he actually wanted to spend some time with Kate. He's not exactly comfortable with that desire because it makes him feel disloyal to his late wife. He spends quite a bit of time trying to fight his feelings. I loved the date that he planned, as it showed just how much he had already come to know and care for Kate. He nearly wrecked everything at the end by giving in to his fears, before listening to some very good advice.
I loved the part that Maya, the chocolate lady from the previous books, played in this book also. She definitely has some serious matchmaking abilities. I also enjoyed her setup for the next book. I will be very interested in seeing just what her involvement is, as I have a suspicion that I'd like to know if I'm right about.