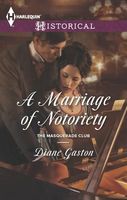 Series:
Masquerade Club
(Book 2)
The scars she keeps hidden...
The mysterious pianiste is the Masquerade Club's newest attraction, captivating guests with her haunting music. What is the true identity of the lady concealed beneath the mask?
Only Xavier Campion, the club's new proprietor, recognizes Phillipa Westleigh, the lady with whom he once shared a dance. Concerned for her safety, Xavier escorts her home each night. But when their moonlit strolls are uncovered, the only protection Xavier can offer is marriage.
Excellent book. Because of a childhood injury that caused a scar on her face, Phillipa hides herself away from people. She spends her days on playing and writing music. When questions about her father and brothers send her to the Masquerade Club, she sees Xavier an old friend from her childhood. Intrigued by the idea of the club, Phillipa convinces him to let her play the piano at the club, remaining masked to protect her reputation. Just as Phillipa begins to gain some confidence in herself, her activities are discovered and Xavier offers marriage. Phillipa doesn't want a forced marriage, but can she believe that Xavier wants her for herself?
I really liked both Phillipa and Xavier. Phillipa had been badly injured as a child, and as a result is very self-conscious about the scar on her face. She found that people, especially men, avoided looking at her and when they did it was with pity. She remembers one fantastic dance with her childhood friend Xavier, where he didn't look at her with pity but treated her as he always did. But a jealous friend ruined that dance for her and Phillipa withdrew from society shortly after. Her music becomes her life. When family troubles send her to the Masquerade Club looking for answers, she encounters Xavier once again. As they renew their friendship she convinces him to let her play the piano at the club, enabling her to get out in public without her usual problems. She accepts Xavier's escort to and from the club each night as simply another indication of how he feels sorry for her. Her feelings for him are changing from friendship into love but she has no expectation that they would ever be returned. When her mother discovers what she is doing, she tries to force them to marry. Phillipa refuses to sentence Xavier to be married to a freak like her and stands firm against her mother. Phillipa has spent most of her life being protected from life's realities by her family and she is tired of it. She knows very well that she is strong enough to cope with anything as long as she knows the truth. I loved seeing her stand up to her family members, especially her mother. I detested her mother and found her actions toward Phillipa to be quite cruel, first by reinforcing that the scar was such a hideous thing that no one would want her and then by depriving Phillipa of her music in an attempt to force her to marry. I wouldn't blame Phillipa at all if she refused to ever see her mother again. I loved the way that Xavier's attentions to her started opening her eyes to the possibility that he really did care for her. She also had to face her own insecurities and decide if she was willing to fight for what she wanted.
Xavier is an incredibly good looking man, but he wants to be known for more than his looks. He spent ten years in the army, where he achieved an excellent reputation for his leadership skills. He has also become known as a man of his word and as a true gentleman. Since returning he has been working with his friend Rhys to run the Masquerade Club. He has fond memories of his childhood friend Phillipa and the one dance they shared years earlier. When she comes to him for answers about her family he tells her the truth, treating her like the intelligent woman she is. It hurts him to see the way that she has locked herself away from life. He's not happy about her desire to play at the club, but he can't tell her no. I loved his feelings of protectiveness toward her, and the way he insisted on escorting her each evening. The more time he spends with her the more he starts to care about her. I loved the way that her scar doesn't bother him, that he hardly even notices it. Everything he does with and for her seems to be intent on building up her confidence in herself. He would like nothing more than to marry her, but he refuses to allow her to be forced. He wants her to marry him because it's her choice. I loved his fury when he discovered what her mother had done to her to try to force Phillipa to marry him. His methods of achieving his goal were pretty creative, and I loved seeing him finally get Phillipa to himself. He has a tremendous amount of patience and I really liked seeing him start to break down her walls. I especially enjoyed seeing him shut down the beautiful woman who was pursuing him because he knew his feelings for Phillipa were the real thing.
There was a minor mystery through the book as Phillipa's memory of her accident starts to return. She gets very frustrated as her mother refuses to talk about that day even when Phillipa tells her how important it is to her. It just reinforces to me how horribly selfish her mother is. I liked seeing Phillipa confront her mother with her fully restored memories. She also had to face Xavier with his own part in that day. I liked that they were able to talk things out and how it ended up strengthening their love.