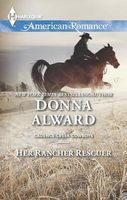 Series:
Cadence Creek Cowboys
(Book 6)
Small-Town Girl, Big-Time Crush
Amy Wilson longs to escape the pointed barbs and knowing looks that come with having a certain reputation in a small town. A temp job with CEO and rancher Jack Shepard seems to offer a way out, if only she can stay focused on her goal.
Former world-class athlete Jack is as relationship-phobic as they come, so he's not worried that the soul-shattering kiss he and Amy shared will affect their working partnership. She's a girl who's going places, but Jack starts to wish that maybe he could tag along for the ride….
Lovely conclusion to the Cadence Creek series. Amy is tired of being the focus of everyone's scorn and gossip and just wants to get away. When she finds out that Jack needs a temporary assistant at his guest ranch, she offers her services. She's attracted to him but she has plans for her future and he's not part of them. Meanwhile, Jack is just as attracted but he doesn't do relationships so he's going to try to keep his distance.
I liked Amy and Jack, though each of them irritated me at different times. Amy has the reputation of being a flirt, flighty and fast. Her father left them when Amy was small and her mother has been depressed and withdrawn ever since. Amy seems to be desperate to find someone who will love her and has dated almost every man in town. While at a wedding she hears yet another person make an unkind comment about her and runs away in tears. Jack comes to her rescue, taking the time to tell her that she is a better person than they give her credit for. A couple weeks later she has taken his words to heart and made the decision to change her life by going to school. When she finds out he is in a bind and needs some help at his ranch, she offers to help out. She knows she can do a good job for him if she can just keep her mind on the job and off her attraction to him. I loved seeing her really get into the job. It was obvious that she was really good at it and once she got over her fear of making mistakes she enjoyed it. She also discovered that the millionaire CEO was a whole different person when they were there, and that he was very hard to resist. Spending time with him and getting to know him, she begins to fall for him, even though he's made it very clear that he isn't relationship material. I loved the growth she showed as she finally began to trust herself and stop letting the past rule her. I really liked seeing her stand up for her own needs and believe that she deserved someone who wanted her and needed her for herself. There was one place that had me in tears as she made the decision to move on and then again as they finally found their HEA.
Jack is in Cadence Creek for his brother's wedding when he comes to Amy's rescue. Because he doesn't know her he isn't aware of her reputation until he hears the comment that upsets her. Jack takes the time to talk to her, find out a little bit about her and show her that she's more than what they think she is. When he comes back to town a couple weeks later he shares his dilemma with her and is surprised by her offer to help. Having noted their attraction to each other, he makes sure she knows that he doesn't do relationships, but that he is happy to have her help. Once they've arrived in Montana he is amazed by how different she is and seriously impressed by her abilities. He begins to regret his insistence that they not get involved, especially when he has such a good time showing her how to have fun. Jack was terribly hurt years earlier when he fell in love with a woman who then broke his heart. He's been afraid ever since then to trust another woman with his heart. Being around Amy makes him think of things that he hasn't considered in a long time, but he just can't let go of his fears. By the end of two weeks I just wanted to kick him in the butt and tell him to suck it up. After the night they had together he treated her so badly I thought he was lucky she didn't run him over with a large vehicle. Even after she left he couldn't bring himself to admit how he felt about her, and made things even worse later on. I completely loved seeing his brother tell him what a complete idiot he had been. I loved it when he said "Get out of here. Your romantic woes are annoying my cows."
I loved the depth of emotion throughout the book. I could feel Amy's hurt at the wedding, her embarrassment when she got lost in Montana, her happiness and then disappointment after New Year's Eve, and then her steely determination to get on with her life. Each one was appropriate to the scene, and fully believable. Meanwhile, I could appreciate Jack's encouragement of Amy at the wedding, and his attraction to her at the time was obvious but controlled. It wasn't until they got to Montana that his vulnerability became more obvious. He was desperately fighting his growing feelings for Amy. His deep seated hurt over the tragedy of his past was truly heartbreaking, and his bone deep fear was paralyzing for him. It definitely made the ending that much more satisfying.