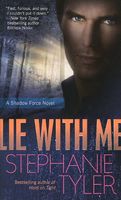 Series:
Shadow Force
(Book 1)
Forced together by fate, bound together by desire.
Framed for a double murder, Delta Force operative Cameron Moore is given a new lease on life by the CIA -- provided he pays them back by doing their black ops dirty work. Now Cam is ready to renegotiate their deal, and he thinks he's found the perfect bargaining chip: Skylar Slavin, bestselling author of espionage thrillers and the daughter of the CIA man who saved him from a prison sentence.
Skylar has been living in anonymity, never suspecting that someone so dangerous -- and so desirable -- would plunge her into a world as treacherous as one of her spy novels. But how can Cam go through with his plan to kidnap Skylar when just the sight of her sets off an explosive attraction he's never experienced before? And when Skylar falls prey to an even more perilous threat, this special ops soldier must call upon all his combat skills to protect the one person who can help him win his freedom -- and the only woman he's ever loved.
Good book. I liked both Skylar and Cam. Both of them are strong people, but also have issues that make them feel more realistic. Cam is ready to be done with dancing to Gabriel's tune with the black ops work and has finally found a way to do it. He's going to kidnap the man's daughter and use her to force Gabriel to set him free. But when he shows up to take her, he discovers that he's not the only one with that idea and ends up protecting her rather than using her. Skylar is an author of spy novels but never expected to end up in a situation even more dangerous than in one of her books. She's not sure if she can trust Cam, but she can't deny the attraction she feels for him.
After her agent mother's death, Skylar was hidden away by her CIA father, coached and trained to keep her true identity hidden. She has taken a working vacation, trying to get her writing back on track after kidney transplant surgery. She hasn't been able to reach her father for several weeks, so when Cam shows up and tells her that her father sent him, she wants to believe him. Others show up claiming the same thing, leading her to wonder who's telling the truth, but she ends up trusting Cam. As they try to evade capture by those who want to use Skylar against her father, she grows closer to Cam. I liked the way that she accepted him for who he was, even knowing some of the things he's had to do in his work. She also shares things with him that she's never told anyone else. I really liked the emotional connection that they had early on. It was also nice to see that it didn't make things all rainbows and flowers for the rest of the book. Sky had to deal with some of the things she learned about him, including what really brought him to her to start with. She also had to deal with the things she learned about her father. I also liked the way that, even though she's not physically at full strength because of her transplant surgery, she still is able to hold her own during the book. Though she occasionally has her doubts about Cam, she is a full participant in her own rescue and the search for her father.
Cam has not had it easy in his life. His father was an undercover ATF agent who got a little too deep into his last op. He ended up getting killed and Cam got framed for the murder of two FBI agents. After spending two years in prison, he was given the chance to clear his record by becoming an operative for Gabriel's black ops group. So when Cam isn't doing his Delta Force gig, he's doing things that he isn't always proud of. After ten years, he's had enough but needs something to use against Gabriel to force him to release Cam. Thanks to his friend Dylan, Cam discovers Gabriel has a daughter and is determined to kidnap her and use her for leverage against him. His first sight of Sky knocks him for a loop, and finding out that someone else is after her too changes his plans for her. Suddenly he's more interested in protecting her than using her. He also finds that they have much more in common than he thought they would. I really loved seeing Cam's heart get involved. Sky's acceptance of him in spite of what he sees as blood on his hands makes a huge difference to his outlook on life. For such a tough guy it's fun to see that there is a tender side also, which comes out as he takes care of Sky. He is faced with a terrible dilemma as he must decide whether to pursue his plan to use her against her father, or give up on those plans and try to save the father of the woman he he loves.
There's also a secondary romance with Cam's best friend Dylan and another operative named Riley. As the book goes on we see how their story is interwoven with the events that lead up to Gabriel's capture, and their involvement in Cam's mission.
The suspense part of the story is very well done. There is the homegrown terrorist organization with the appropriately evil boss. There is just enough from his point of view for us to see just how bad he is without him taking over the story. While part of the mystery is solved by the end of the book, part continues on to the next one.