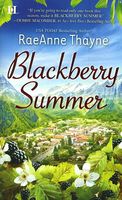 Series:
Hope's Crossing
(Book 1)
Claire Bradford needed a wake-up call.
What she didn't need was a tragic car accident. As a single mom and the owner of a successful bead shop, Claire leads a predictable life in Hope's Crossing, Colorado. So what if she has no time for romance? At least, that's what she tells herself, especially when her best friend's sexy younger brother comes back to town as the new chief of police.
But when the accident forces Claire to slow down and lean on others -- especially Riley McKnight -- she realizes, for the first time, that things need to change. And not just in her own life. The accident -- and the string of robberies committed by teenagers that led up to it -- is a wake-up call to the people of Hope's Crossing. The sense of community and togetherness had been lost during those tough years. But with a mysterious "Angel of Hope" working to inspire the town. Riley and Claire will find themselves opening up to love and other possibilities by the end of an extraordinary summer....
Fantastic book. I love small town stories and this is one of the best. All the characters are very realistic with hopes and dreams and problems that any one of us could experience. When tragedy strikes the town it's the way they deal with it that will make or break the ones living it.
Claire is a divorced mother of two. She owns a bead store that is doing pretty well but will never make her rich. She lives in the same town as her ex and his new wife so that her kids can see their father on a regular basis. She is also the person who takes care of her mother, a woman who turned very needy after her husband's scandalous death. The investigation of a burglary at her store brings her back into contact with Riley McKnight, the younger brother of her best friend and the new chief of police. The bad boy teen has grown up to be a handsome and responsible man and too darn tempting for her peace of mind. When a car accident puts her in need of depending on other people, Riley is one of those who is there. I liked Claire's sense of independence but she also had trouble accepting help. After her father's death, Claire's mom fell apart leaving teenage Claire to take care of her younger brother, the house and her mother. Ever since then Claire has been taking care of everyone but ignoring her own needs. Seeing Riley again stirs feelings in her that have been quiet for a long time, but she's not too happy about having the hots for him. After the accident that injured her and another girl and killed Riley's niece, Claire has to give up some of the control of her life in order to accept the help she needs. She finds herself spending more time with Riley and is quite impressed with the man he has become. She has trouble believing him when he tells her about the crush he had on her when they were younger, but she can't deny the feelings that are growing now. I loved the way that she can separate the troubled boy he was from the man he is now and that she has no trouble standing up for him to other people. It was terrific to see his care for her give her the desire to look after her own needs for a change.
Riley had been a bit of a hell-raiser as a teen. He is the youngest of six kids and the only boy. He had a lot of anger to deal with when his father left the family and it came out in destructive ways. As soon as he graduated from high school he left home and ended up becoming an undercover cop in California. After years of doing that work he is feeling burned out when he is offered the job of police chief in his hometown. He takes it on a probationary basis, not sure if it will be a good fit. He begins to think he was right as so many in town don't seem to be able to forget his teenage mistakes. A bright spot in his return is seeing Claire again. He has never forgotten her and meeting again as adults shows him that the feelings are still there. As much as he'd like to pursue them, he feels that he's too damaged to be good for her, because of his cynicism from his former job and his fears that he'd be like his own father. But he also finds that he can't stay away from her. He's first on the scene after the car accidents and is desperate to make sure that she and her kids are safe. Finding out about the occupants of the other car, and the death of his niece, Riley feels like the whole mess is his fault. He spends a lot of time helping Claire and growing closer to her, but afraid to take it further. I liked the way that he owns up to his stupidity from when he was younger, and I got really frustrated with the townspeople who refused to see the man he had become. Even his own family seemed to be blind to who he was. He did have a couple instances of idiocy, especially the one where he was so cynical about the "Day of Hope" that Claire and her friends were planning. I'm glad he saw the errors of his ways. His oh-so-romantic actions at the auction were the perfect ending to the book.
One of the things I like best about small town stories is the complicated and interwoven relationships. As the first book in the series we learn at least a little about quite a few characters. Claire's ex isn't a bad man, but he's pretty oblivious to the pain he causes Claire with some of his actions even after their divorce. Claire's mother really irritated me. I hated the way she leaned on Claire for everything and still managed to put her down about so much. Her attitude about Riley really made me mad. She was slightly redeemed at the end, but I think she still has a ways to go. I loved the "Angel of Hope" and the way he/she has been doing things to help out various people. Those things and the way that small towns have of coming together in times of tragedy go a long way toward improving the atmosphere of the town.